Photo Gallery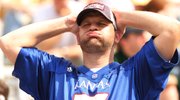 KU vs. Georgia Tech
Press Conferences & Post-Game Interviews
KU coach Turner Gill
Kansas coach Turner Gill talks to reporters following the Jayhawks' 66-24 loss to Georgia Tech on Sept. 17, 2011, in Atlanta.
Press Conferences & Post-Game Interviews
KU defensive coordinator: 'What happened today is on Vic Shealy'
Kansas defensive coordinator Vic Shealy took responsibility for the defensive performance in his team's 66-24 loss to Georgia Tech on Sept. 17, 2011.
Atlanta — A source within the ACC told the Journal-World on Saturday morning that the league could announce the addition of Big East schools Pittsburgh and Syracuse as early as today, a move that likely would set off widespread movement in conference realignment.
If it happens, it remains to be seen how the shift would impact Kansas University, though the source said the talk in ACC country is that the league has targeted Texas and KU as its ideal 15th and 16th members.
Before coming to Kansas, chancellor Bernadette Gray-Little worked as the provost at North Carolina and is said to have serious ties throughout the ACC. What's more, sources have said throughout the past few weeks that Gray-Little has been in the thick of the realignment talk since it began.
Should the Jayhawks head to the ACC, a power-packed basketball conference that already includes bluebloods Duke and North Carolina, another source told the Journal-World at halftime of Saturday's 66-24 blowout by Georgia Tech that the league would consider dividing into four-team pods instead of eight-team divisions to make the travel less taxing.
Late Saturday, several administrators within the Big East and ACC had begun talking about the Syracuse and Pitt moves as mere formalities.
If that's the case, the focus will shift to how the Pac-12, Big Ten and SEC will react and, of course, what's to become of the Big 12.
Miller the lone bright spot
While the final score might lead some to believe Saturday's game was ugly from start to finish, that wasn't the case.
After falling behind 7-0 and 14-7, the Jayhawks tied the game on short touchdown runs by true freshman Darrian Miller, who finished with 53 yards and two touchdowns on 11 carries.
"That's one guy that I could say stood out," KU coach Turner Gill said of Miller. "He had some really good runs, has good feet, ran through tackles and was not gonna be stopped as far as getting into the end zone. I think Darrian Miller definitely gave us a spark."
Surprise, surprise
While the Jayhawks prepared for dozens of different looks in Georgia Tech's triple option offense, Gill said the Yellow Jackets ran a couple of plays that the Jayhawks had not seen on film.
One of them was the counter play that went for 95 yards and a touchdown on Tech's first offensive play of the game. The other was the belly option play, which Gill said was the one play the Yellow Jackets ran consistently that gave his team the most fits.
A few KU defenders helped explain why.
"It was just miscues," McDougald said. "I wouldn't say they were going after the same guy or anything like that. The option is so hard to defend when you run it to perfection as they do."
Added sophomore cornerback Tyler Patmon: "Some people weren't reading their keys and some people weren't making plays, and if you don't make the plays that's a type of offense that's gonna go for 60."
This and that ...
For the third game in a row, the Jayhawks won Saturday's opening coin toss and elected to receive ... Temperature at kickoff was 63 degrees, under sunny skies with winds of 7-10 mph out of the east ... Red-shirt freshman Andrew Turzilli's touchdown catch with 2:24 remaining in Saturday's game was the first reception of his career ... True freshman Marquis Jackson had the first two receptions of his career, the first going for 15 yards.
Copyright 2018 The Lawrence Journal-World. All rights reserved. This material may not be published, broadcast, rewritten or redistributed. We strive to uphold our values for every story published.