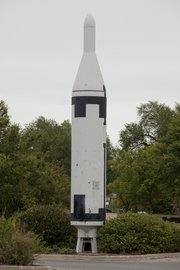 Maybe the Cold War isn't quite over yet in Lawrence.
Lawrence city commissioners at their meeting Tuesday night will formally receive a letter from the Kansas Cosmosphere and Space Center in Hutchinson asking whether the city would consider donating to the center the Polaris submarine-launched ballistic missile that long has served as a Cold War monument in Centennial Park.
City commissioners are expected to receive the letter and refer the issue to staff members for review, but based on early feedback from the public it seems likely that parting with the missile would receive a mighty chilly reception.
"My speculation is we'll probably be keeping the missile, but we'll keep their name on file," City Manager David Corliss said.
The missile, of course, is inoperable, but that doesn't make it any less of a Lawrence landmark. Thousands of cars every day drive by the missile, which is in Centennial Park near the corner of Sixth Street and Rockledge Road.
"I've always been a fan of the missile," said City Commissioner Mike Amyx. "It has been there for a long time, and I think it has found a pretty good home in the park."
Leaders with the Cosmosphere inquired about the availability of the missile because they are building a rocket and aircraft park on land across the street from the Cosmosphere.
The Cosmosphere's president and CEO, Christopher Orwoll, is familiar with the missile because he previously lived in Lawrence while serving as the Commanding Officer of the NROTC unit at Kansas University.
According to his research, the missile was presented to the city in October 1964 by the Lawrence Navy League. Corliss said the city likely would do some additional research on the missile to ensure that its story is being adequately told.
Copyright 2018 The Lawrence Journal-World. All rights reserved. This material may not be published, broadcast, rewritten or redistributed. We strive to uphold our values for every story published.