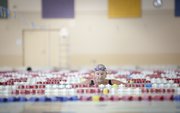 Best places to retire
The "25 Best Places to Retire," according to Money magazine, which compiled each community's population, median home price, top state income tax rate and cost of living index, plus a handful of attractions and amenities:
Marquette, Mich.

Cape Coral, Fla.

Boise, Idaho.

Danville, Ky.

Weatherford, Texas.

Southaven, Miss.

Pittsburgh, Pa.

Broken Arrow, Okla.

Lake Charles, La.

Winston-Salem, N.C.

St. Joseph, Mich.

Huntsville, Ala.

Clearwater, Fla.

Clarksville, Tenn.

Tucson, Ariz.

Austin, Texas.

Bloomington, Ind.

Lawrence

Spokane, Wash.

Columbia, S.C.

Albuquerque, N.M.

Marietta, Ga.

Iowa City, Iowa.

Conway, Ark.

Georgetown, Texas.
Lawrence is among the 25 best places in the country to retire, according to the folks at Money Magazine.
The experts don't suggest that everyone immediately leave their jobs and head for Phoenix or Florida or anywhere else many elders traditionally aim to spend their postwork years.
No, this list simply advises folks about the best places to actually live in retirement: Move there. Stay there. Be there.
"Each of these towns offers amenities galore for the post-work crowd," the magazine says, "plus a cost of living that's pretty darn sweet."
Lawrence checks in at No. 18 on the list available online at Money.CNN.com, where the rankings topped the site's most popular stories Thursday.
The magazine's top place to retire is Marquette, Mich., home to relatively affordable housing, solid health care, and Northern Michigan University. Among other college towns in the rankings: Boise, Idaho, at No. 3; Winston-Salem, N.C., at No. 10; Tucson, Ariz., at No. 15; Austin, Texas, at No. 16; Bloomington, Ind., at No. 17; Columbia, S.C., at No. 20; and Iowa City, Iowa, at No. 23.
Among Lawrence's positive attributes, according to the magazine:
• A historic downtown, with tenants ranging from "quirky shops to natural food stores."
• All the "art, education, medical care and sports events you'd expect of a major college town."
• Plenty of recreational opportunities, such as boating and use of trails at Clinton Lake, birdwatching in the Baker Wetlands, and swimming at the Lawrence Indoor Aquatic Center.
Such positives draw folks to town from all over. Gerre King, a resident of the new Meadowlark Estates retirement community northwest of Sixth Street and Folks Road, counts people from California to Florida among her neighbors at the new 124-apartment complex, a project that cost more than $14 million.
One woman moved in from Santa Fe, N.M., after having previously lived in Switzerland.
"I do like to travel," said King, a former McLouth resident who retired 19 years ago from the state Department of Social and Rehabilitation Services. "I have been in every state in the United States, and I've been to Europe and Australia. I do know a little bit about other parts of the country."
Now she swims at the nearby indoor pool. She enjoys taking in Kansas University football and basketball games. She's looking forward to construction of the new Theatre Lawrence, which will also be nearby.
"I enjoy it here," said King, 81. "We have everything that we need right here."
Copyright 2018 The Lawrence Journal-World. All rights reserved. This material may not be published, broadcast, rewritten or redistributed. We strive to uphold our values for every story published.