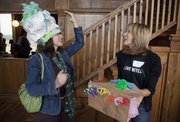 Raising $1.7 million might sound like a daunting task, but organizers of the 2011 United Way of Douglas County campaign are confident the community will rise to the occasion.
Volunteers began a two-month-long campaign Thursday night with a celebration at Abe and Jake's Landing, 8 E. Sixth St. Big Jay and regional mascots took to the dance floor, and silly prizes — from fake mustaches to flashing rings — were handed out at the door. Parents and children mingled, enjoying free food and drinks.
Out of the gate, Val Stella, campaign co-chair, said the campaign has already raised $416,000 thanks to pledges already made this year. He credited the generosity of the community and local businesses, many of whom are on track to exceed their goals.
"One company had a goal of raising $5,000. They've already raised $9,000," Stella said.
Beth Stella, Val's wife and co-chair of the campaign, said volunteers and donators have stepped up because they know times are tough.
"It really is a very generous community," she said.
"We're hoping it's contagious," Colleen Gregoire, director at the United Way of Douglas County, said of the generosity.
The United Way will focus its energy in three areas, which were chosen after asking Douglas County residents what areas were most important to them. The United Way will partner with 29 area organizations to help teens succeed in school, adults maintain jobs, and those in need of health care get access.
Blake Osborn is an AmeriCorps volunteer working on the health care aspect of that equation. He leads exercise classes at Babcock Place, which provides housing to senior citizens. For him, the kickoff was a way to connect with other volunteers.
"Coming here makes me realize I'm part of something bigger," Osborn said. "It gets us all pumped up for the work we're doing."
Each of the 29 organizations receiving funds will be organized in one of three groups, based on the work they do. Organizations within each group coordinate with each other, which Beth Stella said helps to make each donated dollar go further.
"These problems we face are big ones, and they'll only get solved if we take a united front," she said.
Copyright 2018 The Lawrence Journal-World. All rights reserved. This material may not be published, broadcast, rewritten or redistributed. We strive to uphold our values for every story published.