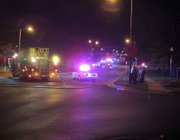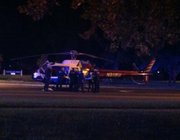 A 31-year-old Lawrence man was transported by helicopter after falling and hitting his head early Friday morning.
A Lawrence police officer on the scene said the man had been walking, and had fallen and hit his head on the pavement. He was thought to be impaired by a substance, and it did not appear he was pushed.
Sixth Street was shut down between Tennessee and Kentucky streets to make a landing area for the helicopter. The helicopter took off with the man at around 2:35 a.m., and was expected to land at Stormont-Vail Healthcare in Topeka.
No information on the extent of his injures was immediately available.
Check back to LJWorld.com for updates.
Copyright 2018 The Lawrence Journal-World. All rights reserved. This material may not be published, broadcast, rewritten or redistributed. We strive to uphold our values for every story published.