Photo Gallery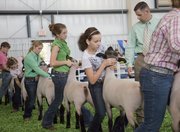 700-pound butter scultpure, pig races highlight Kansas State Fair in Hutchinson
Hutchinson — On the first day of the Kansas State Fair, Chris Berg, 19, Lawrence, has already picked up four girls.
He says it's tradition.
"We did it at the county fair and so we did it at the state fair," Berg says.
Yes, he literally picked them up last Friday, as he's done numerous times before. The girls were fellow Douglas County 4-H'ers, all competing in the market lamb show.
One of them, Taylor Stanley, 17, Baldwin City, could have used a lift after finishing second in a Hampshire lamb class.
"Waaaaaaaa," moans Stanley after the close competition. "It was rough. I don't know, it just put me down."
Stanley took three lambs to the fair.
"I have one more left to show," Stanley says. "I hope I do better with him. It's tough."
Grace Baxter, 12, Overbrook, not only entered steers in the market beef competition but also likes to take in the sights and sounds of the fair.
"I look forward to walking around and looking at the exhibits," Grace says.
There's a lot to see, including a 700-pound butter sculpture.
"I see a monkey with its tongue out, riding a lamb," says Lucas Wert, Hutchinson, describing the refrigerated showpiece.
Nearby, a large crowd cheers at pig races, where four small swine circle a track.
"Man, oh man!" says the announcer. "It's Lindsay LoHam at the finish line."
When fair-goers get hungry, they can eat prime fillet alligator or deep fried Twinkies, both on sticks, while watching entertainment like the Kansas Kountree Kloggers, a chain saw artist or a comedic hypnotist.
But right now, Grace is two buildings away from her fellow Douglas County 4-H'ers and on her own as she pulls her 1,200-pound crossbred steer around the market-beef-judging arena.
"You have to hold their heads up and you scratch their belly," says Grace about showing the animal and keeping it calm.
For Grace it's just a little lonely this year.
"I have a few friends, but mainly they do sheep," she says. "No cattle friends for me."
The Kansas State Fair continues through Sunday.
Copyright 2018 The Lawrence Journal-World. All rights reserved. This material may not be published, broadcast, rewritten or redistributed. We strive to uphold our values for every story published.