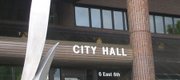 Subscribe to the email edition of Town Talk and we'll deliver you the latest city news and notes every weekday at noon.
News and notes from around town:
• What would it take to get a woman to trade in that tennis bracelet for one that features gorillas or warhawks or devil-like looking predators? Simple: a son or daughter who plays on a sports team that has such a mascot. A new Lawrence company has figured out that it is not only men who go all out for showing their support for an athletic team. Women want in on the action, too, and now a group of Lawrence area residents have set up a new shop on 23rd Street that gives them the chance. Spirit Girl Boutique opened recently at 1502 W. 23rd St. The shop sells a variety of women's apparel, but it specializes in producing custom jewelry with team logos on it. Area residents Susan Lomshek and her sister Sarah Holbrooks own the new venture, and Matt Lomshek, a longtime owner of a Lawrence promotional products company is a manager for the company. The retail venture has grown out of wholesale company the group started about two years ago, called Spirit Girl Couture (whenever my wife starts using fancy words like that I get really nervous. And a dictionary.) The wholesale business focuses a lot on the college athletic scene. Matt Lomshek said the company now has licensing agreements with about 30 Division One universities, including all the major ones in this region. Those licensing agreements allow the company to produce a variety of logo-bearing products, with jewelry such as bracelets and necklaces leading the way. Lomshek said the company is working to get into many upscale boutiques in college communities across the country. But in Lawrence the company decided to open its own store. That store, in addition to selling the college merchandise, can produce jewelry, shirts or other logo-bearing products for high school teams, youth sports teams or other organizations. Lomshek said the company now has about 15 people working for it in one capacity or another. That's because the firm also produces the jewelry locally. Some of it is made at the store, but the company also has a partnership with a Baldwin City firm that does some of the production work.
• I wonder if those athletic-loving moms appreciate artificial turf? After all, no grass stains to clean. We should find out tonight whether Lawrence City commissioners appreciate the idea of artificial turf in the city. As we have reported several times before, a development group led by Thomas Fritzel is seeking a change in city regulations that would allow artificial turf to be used as a substitute for natural grass to meet the city's landscaping codes. In fact, the development group already installed a bunch of the product at a West Lawrence apartment complex along Frontier Road. City planners said that installation was contrary to city code, and they say the product will have to be removed, unless city commissioners agree to change the regulations. Lawrence-Douglas County planning commissioners previously recommended that the code not be changed to allow artificial turf. But as always, city commissioners get the final say in such matters. I expect the development group will argue hard to convince commissioners to allow the turf. A major selling point is that artificial turf surely doesn't create any health problems or major drainage issues, since the city code does allow it to be used on athletic fields. The development group also has been contending that artificial turf is a net positive to the environment because it doesn't require fertilizer, pesticides or frequent watering (you might need to wash it off occasionally.) In fact, the development is presenting one report that suggest some interesting numbers about manicured lawns. It estimates that a U.S. lawn about one-third of an acre will receives as much as 10 pounds of pesticides, 20 pounds of fertilizer, and 170,000 gallons of water annually. It also is estimated that a homeowner could spend the equivalent of a 40-hour work week mowing the lawn, and that such lawn mowing with conventional gasoline mowers would produce pollution equal to driving a car 14,000 miles.
See, I knew it. Pay attention neighbors. My lawn looks the way it does not because I'm too tight to pay a water bill or too lazy to spread fertilizer but because I'm a conservationist.
Of course, city planners had a whole host of reasons why they're recommending that the artificial turf rules not be changed. But a big one is that they believe there are many natural products out there that would allow for a low-maintenance landscape. City commissioners meet at 6:35 p.m. tonight at City Hall.
• You know what else artificial grass doesn't produce? Grass clippings. At least it shouldn't. (It would be my luck that I would spend the big bucks to install it, and then my wife would mow the yard for the first time ever. EVER. ) Cutting down on yard clippings could become important in the future, based on some of the discussions the city's Solid Waste Task Force had last night. You can read about that here. But the group did talk about more than just yard waste last night. Here's a summary of a few things trash and recycling related, based on last night's meeting:
It sure looks like the group is going to recommend that all city households begin using those wheeled poly carts instead of trash cans or just throwing a bag out by the curb. It seems the question now is whether the standard size of the cart — which would be provided by the city — would be 65 gallons or 96 gallons. That will end up being important because what trash you can't fit into the cart, you'll likely have to pay extra for. The carts will allow the city to start using more automated trucks that could cut down on the number of crew members needed to staff each vehicle.
The task force wants to do something to improve curbside recycling service in the city. There was not much talk of just leaving the current system of private providers alone. Deffenbaugh Industries currently offers once per week curbside recycling for about $5 per month, although I believe there currently is a fuel surcharge that pushes the total cost closer to $8. A Deffenbaugh representative was at the meeting last night and said about 4,200 customers have signed up for the service in Lawrence. There are several other private providers offering a variety of curbside services in Lawrence. The task force estimated that there may be around 5,000 households in the city currently subscribing to a curbside program.
The task force is looking at options to include curbside recycling as part of everyone's trash service. Whether a private provider would do the actual pickups or whether the city would take over that service, is a question that didn't get any discussion last night.
A big question remaining is how often should curbside recycling be offered. It seems it comes to down to a scenario of either once a week or once every two weeks. The answer will go a long way in determining how much everybody's trash bills may rise.
It looks like the city will have plenty of options when it comes to taking their recycled materials to a processing facility. Deffenbaugh currently operates a facility in Kansas City, Kan. But the task force learned last night that Tonganoxie-based Honey Creek Disposal, plans to open its new recycling processing facility in the former Lacy Steel building on the Leavenworth-Douglas County line by early 2012. The task force also learned that Hamm Co., which operates the landfill the city uses in Jefferson County, also is planning to build a recycling processing facility at the landfill. A timeline on that project was less certain. And, a representative from Waste Management, a large national refuse company, said it was putting together a proposal to build a recycling processing facility in North Topeka at a landfill it currently operates. That project is contingent upon Waste Management winning a contract from Shawnee County.
Copyright 2018 The Lawrence Journal-World. All rights reserved. This material may not be published, broadcast, rewritten or redistributed. We strive to uphold our values for every story published.