Photo Gallery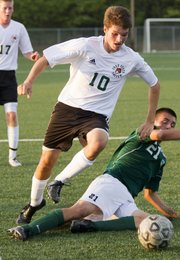 Free State soccer vs. DeSoto
Jake Walter is having a good senior season.
Free State (2-0) beat De Soto at FSHS Monday night in a 5-0 romping, led by Walter's two goals and assist. Add that to what he did on Thursday, and Walter has four goals in the first two games of the season.
"I'm just getting lucky so far," he said.
Walter attributed some of that luck to his position as striker, where plays will be set up for him near the goal. Aside from one play where he lost control of the ball, he made both goals he attempted. But still, there has to be something more to consistently getting the ball into the net than his position.
Coach Kelly Barah said that there has been some sort of spark, some "it" factor, that Walter has never had before. The two had a long conversation during the offseason in which they discussed maturity and leadership. Afterward, Walter took his position to heart and his abilities skyrocketed. Now he is leading the Firebirds.
"Honestly, he's one of the most improved players I've seen that I've coached in the program," Barah said. "Right now, he just has that little something to find the back of the net."
Against De Soto, though, it wasn't all Walter. The entire game was basically played on De Soto's half of the field, with FSHS engaged in what looked like shooting drills.
In the first half, Walter had his first goal nine minutes into the game, Rigby McClure scored at 28:17, and Walter assisted Joshua Hodge at 10:42.
In the second half, the Firebirds just kept attacking. Hunter Peirce nailed one with 25:02 left. Walter finished where he left off with 22:14 remaining, capping the 5-0 rout.
"We have a lot of cohesiveness as a team and it's really paying off," Walter said.
Despite the tremendous start, Walter said there are plenty of players as good as him on the team. So why is he the one getting into all the action? He said it could be luck, it could be his position. Barah said jokingly that maybe Walter was tired of getting yelled at. Or maybe he is just that good.
"I can't wait to see what the rest of the season has in store for him," Barah said.
This was the first of a three-game week for FSHS, as it plays host to Shawnee Mission South tonight and Shawnee Mission West on Thursday.
Copyright 2018 The Lawrence Journal-World. All rights reserved. This material may not be published, broadcast, rewritten or redistributed. We strive to uphold our values for every story published.