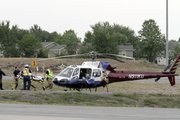 A 49-year-old Topeka woman was transported to Kansas University Hospital by helicopter after an accident on the Kansas Turnpike on Tuesday evening.
Rosemary Hanna was driving a 2005 Chevrolet Cobalt when, according to the accident report, an unknown recreational vehicle swerved into her lane, causing her to lose control of her car. It flipped several times near the eastbound mile marker 200 of the Kansas Turnpike.
There is no information about the degree of injuries at this time, but Hanna was conscious and talking during the flight to the hospital, said a representative of the Kansas Turnpike Authority.
Check LJWorld.com for more information as it becomes available.
Copyright 2018 The Lawrence Journal-World. All rights reserved. This material may not be published, broadcast, rewritten or redistributed. We strive to uphold our values for every story published.