On the street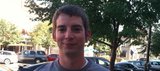 Listen to music
Hoping to start an exercise routine? Or maybe yo√u need a little motivation or a way to spice up an existing regimen. One area trainer has discovered a most unusual way to motivate the clients at his gym: Maximus, a 6-year-old pit pull terrier, and Nala, a black Labrador mix. Those who venture into the North Lawrence club will find them at their places: Maximus, at his perch in the front window, welcoming all who enter, and Nala, typically in the back of the gym lying quietly under a weight machine, "motivating anyone to smile and squeeze out a few more reps," says her profile on the club's website.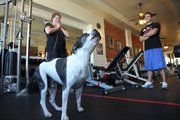 "They're like the yin and the yang," says First Level Fitness owner Chad Richardson, who has watched his clients interact with the dogs since Maximus was a puppy. "Personality-wise, they are complete opposites: Maximus, always looking out, wanting to protect, and Nala, the people pleaser."
Over the years, Richardson has seen the value of having his unorthodox trainers. "They help a lot of people get over the fact that working out can really suck sometimes!" he says. "I want to associate positive things with the act of working out, to link up good things with their practice. There is a natural, chemical reaction in the brain that makes people feel better when they are petting an animal. Endorphins are released."
Next Level Client Cris Bryan appreciates the dogs' presence. "They are good comic relief sometimes, helping me not to take everything so seriously," she says. "They're also a good excuse for a break, especially if I need to stop for a while to think about the next hard thing I have to do — I just stop and pet them, and it helps to keep me going."
While Maximus and Nala draw people to Richardson's gym, others in Lawrence use their workout time to escape from dogs ... and hamsters ... and kids ... and all of the tasks associated with running a household and holding down a job. Nearly two dozen women from west Lawrence meet to run and do calisthenics four times a week.
"We run on Tuesdays, Thursdays and Saturdays," says one of the participants, Dana King. "And then on Fridays we meet at Free State for our 'Boot-ie' Camp."

The workouts start early — 5:30 or 5:45 a.m., and the women run anywhere from four to 10 miles a day.
"I am back home before anyone else is up," says King, the mother of three sons: Parker, 12; Spencer, 10; and Joshua, 7. "They don't even know I'm gone."
King has been working out with the group for about five years. "I used to walk with a friend when I started having babies, then another friend invited me to her workouts," she says.

The women really came together as a group when one of the participants suggested that they train for a 10k in Kansas City. Since then, King has done four half-marathons.
"I don't run very fast in them," she says. "But I do make it over the finish line!"
While the group started out as a way for the participants to stay fit, it has accomplished much more. "The social part of the group is huge," King says. "We encourage each other. Oftentimes I don't want to do it, but they keep me going."
"It's mental therapy as much as it is a physical workout," says Michelle Pester, who has also been with the group for years. "It's nice to talk about the struggles as a mom and all of the other challenges of life."
Group members also encourage one another to achieve their individual fitness goals.
"We hold each other accountable," Pester says. "I know that tomorrow morning at 5:30 Sherry [another runner] is going to be there. It sure helps when that alarm goes off! I expect her to be there at 5:30, and she expects me."
Pester started her workout routine with specific goals.
"When I turned 35, my goal was to run 30 minutes on a treadmill. When I turned 40, my goal was to run a marathon, and I ran two! Plus a handful of halves!" says Pester, now 42.
Pester helps keep the group coordinated, sending emails on workout times and locations.
"I used to think, 'Who are those crazy women getting up so early?'" Pester says. "And now I'm one of those crazy nuts. I've gotten to the point with my workouts that I feel guilty if I don't exercise."
But if you're not ready to join a gym and face the bark of a trainer like Maximus, and if you have more modest fitness goals than preparing for marathons, maybe Walktober is for you.
Walktober is a national walking program in which participants are given the goal to walk at least 2 1/2 hours a week during the month of October. People sign up on their own or with a team.
"We are hoping that by participating in Walktober, people will have a reason to get outside and get moving," says Janelle Martin, director of Douglas County Health Improvement Partnership, co-sponsor of Walktober with Lawrence Memorial Hospital.
"If you're like most people, sometimes it's really difficult to get started," she says. "But once you have made yourself get out there you tend to feel better, you're breathing fresh air, and you're happy you committed to the workout."
Copyright 2018 The Lawrence Journal-World. All rights reserved. This material may not be published, broadcast, rewritten or redistributed. We strive to uphold our values for every story published.