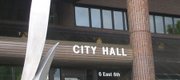 Subscribe to the email edition of Town Talk and we'll deliver you the latest city news and notes every weekday at noon.
News and notes from around town:
• And you thought the outlet store phase in Lawrence was long dead. Granted, there are two former outlet malls here that would give you that impression, but there is new activity on the outlet front. I have heard from several people now that the new Jos. A. Bank store that is slated for Seventh and Vermont streets ( the former Talbots location) will be a "factory store." No "outlet" officially in the name, but my keen shopping instincts tell me that it is a similar concept. According to the company's Web site, their factory stores offer "factory-direct values and close-outs from our regular stores." What does that mean to you? Well, according to the Web site, their factory stores are now offering — brace yourself — a blue seersucker suit for $119.99. Blue seersucker. Now you're talking in my good ear. My only question is when will it open here? What I hear is by late September or early October. I did notice workmen at the location last week when I walked by. The store could potentially be a nice attraction for downtown. According to the Web site, it will be the first factory store in Kansas for Jos. A. Bank. Currently, the company's nearest factory stores are in Branson, Mo., and Oklahoma City.
• Perhaps seersucker would look good in a renovated Masonic Temple building. (What am I saying? Seersucker looks good anywhere.) City staff members now are recommending a set of financial incentives that would allow a development group led by Lawrence businessman Doug Compton to renovate the former Masonic Temple at 10th and Mass. for use as a banquet facility by Lawrence-based caterer Steve Maceli. But city staff is recommending that the incentives not be quite as generous as the developers had sought. The city manager's office is recommending a 10-year property tax rebate for the approximately $800,000 renovation project. The development group is seeking a 15-year rebate. The rebate would be one issued through the Neighborhood Revitalization Act. Under the NRA (the act, not Charlton Heston's group), the property would continue to pay 100 percent of the property taxes on its current appraised value of $400,000. But it would receive a partial rebate on the expected $800,000 in new value created by the renovation. City staff hasn't taken a firm position on how much that rebate should be. Under one scenario, it would start out as a 95 percent rebate in year one and decline to a 50 percent rebate in year 10. After year 10, it would be fully on the tax rolls. Another scenario starts the rebate at 75 percent and declines to 5 percent by year 10.
In addition to the tax rebate, the city manager's office also is recommending that the city provide $36,000 to help with cost of installing a fire sprinkler system in the building, which was constructed in 1910. Also, the city would pay $12,000 to build a handicapped-accessible ramp to the entrance of the building.
Even with all the incentives, though, the city is expected to receive more in new tax dollars than it will incur in new costs, according to analysis conducted by the city's economic development coordinator. The city is expected to receive from $80,000 to $95,000 in new tax revenue — adjusted for inflation — over the next 15 years. The county would receive $48,000 to $55,000, and the school district would net $50,000 to $60,000 in new tax revenue over the 15-year period.
The analysis projects that the project would produce three new full-time jobs at Maceli's and several part-time jobs that would be the equivalent of about a half-dozen full-time employees. If you remember, Maceli previously has said he would operate the Masonic Temple building in addition to his existing facility in the 1000 block of New Hampshire Street.
The development group has said it needs the incentives in order to lower the rent on the Masonic Temple building to a point that Maceli's business would be feasible. The developers have noted that other potential uses for the building, including a bank or offices would require significant modifications to the design of the building that may not be approved by historic planners. The building has received interest from businesses wanting to convert it into a bar-oriented restaurant, said Lawrence architect Paul Werner, who is overseeing the project for the developers. But he said the development group does not want a bar at that location.
City leaders soon will get a chance to weigh in on the project. The city's Public Incentives Review Committee will meet at 4 p.m. Tuesday at City Hall to consider the recommendation. That group then will make a recommendation to the City Commission, which will have the final say on the matter.
• The Public Incentives Review Committee (PIRC, if you want to sound cool at City Hall) also will consider a property tax abatement request by Chris Piper's Grandstand Sportswear and Glassware to move into the former Sauer-Danfoss building in East Hills Business Park. Staff members haven't completed their report on that project.
• If you like a little spice with your lunch, Kansas University's Institute for Policy & Social Research may have a menu to your liking in mid-October. The institute will be hosting its annual Economic Policy Conference, and this year the topic will be immigration. The luncheon program will be a conversation between Kansas Secretary of State Kris Kobach, Houston immigration attorney Alberto Cardenas, Jr., and Jeanette Prenger, the vice chair of the U.S. Hispanic Chamber of Commerce. Kobach, of course, is one of the leading voices in the country when it comes to crafting new legislation aimed at cracking down on illegal immigration and voter fraud that he believes is linked to illegal immigration. The conference is slated to run from 8 a.m. to 2 p.m. on Oct. 13 at the Kansas Union. You can find more information about the full program here.
Copyright 2018 The Lawrence Journal-World. All rights reserved. This material may not be published, broadcast, rewritten or redistributed. We strive to uphold our values for every story published.