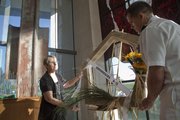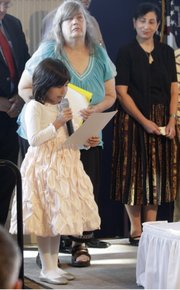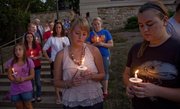 As the nation reflected on the 10th anniversary of the Sept. 11 attacks, local community and religious leaders honored the victims and urged Lawrence residents to overcome their fears inflicted by the tragedy.
More than a hundred residents filled the Dole Institute of Politics on Kansas University's West Campus to attend the commemoration, titled "From Fear to Hope."
Two victims of the attacks shared their memories, including harrowing escapes and acts of courage.
"The disaster truly brought out the best in New Yorkers," said Jane Tedder, recounting her experience at the World Trade Center.
Tedder was attending a conference in New York and was inside the Marriott Hotel adjacent to the towers when they were struck. During her speech, she paid tribute to the hotel employees who died as they evacuated the building.
Capt. Thomas Neal was inside the Pentagon during the attack. He described the strange experience of 20,000 Pentagon employees exiting the building in complete silence. "It was quiet, orderly and surreal," Neal said.
Many of Neal's he were killed that day; his naval department suffered a 40 percent casualty rate. He paid tribute to the victims and their families.
The multifaith commemoration was as much a move forward as it was a look to the past. Thad Holcombe, campus minister for the Ecumenical Christian Ministries, led the processions, which featured a tribute to first responders and words of reflection from representatives of 11 religions.
Mayor Aron Cromwell also spoke, emphasizing the importance of common sense and unity in the post-9/11 world.
The event was hosted by An Interfaith Dialogue, a grassroots organization that promotes religious unity and diversity in Lawrence. Dru Sampson, president of IFD, thought the anniversary of the attacks was the perfect opportunity to promote the group's message.
"We need to move on from hatred and fear," she said. "The way to bring peace and harmony to the world is through meeting each other."
Copyright 2018 The Lawrence Journal-World. All rights reserved. This material may not be published, broadcast, rewritten or redistributed. We strive to uphold our values for every story published.