Photo Gallery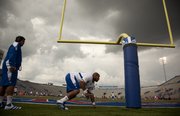 KU vs. Northern Illinois
Press Conferences & Post-Game Interviews
KU coach Turner Gill
Kansas coach Turner Gill talks to reporters following the Jayhawks' 45-42 victory over Northern Illinois on Sept. 10, 2011.
-->
For better or worse, Kansas University junior wide receiver D.J. Beshears had his hands all over the Jayhawks' 45-42 victory against Northern Illinois on Saturday at Memorial Stadium.
Luckily for the Jayhawks, the junior from Denton, Texas, saved his best for the end.
With Kansas trailing, 42-38, with five minutes to play, Beshears returned the NIU kickoff 51 yards to set up KU's final drive inside Huskies' territory. Eleven plays later, on a must-have, fourth-and-goal play from the six-yard line with nine seconds to play, Beshears' precision grab and bulldozer mentality pushed the Jayhawks to victory in front of 48,084 entertained and exhausted fans.
"Great catch," said KU offensive coordinator Chuck Long of Beshears' game-winning grab. "Of course, he set the whole drive up with his return. I guess you could call that the D.J. Drive."
The pitch-and-catch capped an incredible night for two of KU's most important offensive players. Sophomore quarterback Jordan Webb played the game of his life (21-for-30 passing, 280 yards and three TDs) and often had Beshears to thank for it. While Webb consistently showed just how much he has grown — and improved — in the last 12 months, Beshears gobbled up everything in sight, finishing with 70 yards and two TDs on seven catches and another 197 yards on seven kick returns. The yardage and reception totals were career-highs. The return total was six yards shy of a school record.
"I don't know if it's the best game of his career," KU coach Turner Gill said afterwards. "But I would say he did a great job. Not just on the offensive side, but (on) kickoff return, too. He's one of our guys that we believe will be a play-maker for us, and he did that tonight."
It didn't exactly start out that way. Early on, Beshears dropped a pass that hit him in the hands, and, later, was flagged for holding on what would have been a 31-yard TD run by sophomore James Sims.
"I was bummed about that," he said of the drop. "Coach just told me to keep my focus, and I tried to do that. When I got that holding call, I was giving good effort. I was trying to make the block for James to score. I apologized to him. Things happen. You just have to move on to the next play."
Move on they did. Beshears and the Jayhawks overcame the early miscues and answered a 21-7 first-half defcit with a 28-7 counter-punch, en route to racking up 534 yards of total offense on 90 plays.
As for the game-winner, Webb said Beshears was his last read on the play, and Beshears said he knew it would work.
"It's open in practice all the time, and we never hit it," he said. "But I was glad we got it tonight. I got the right depth, saw Jordan throw it, made the catch, turned and scored. It was a great feeling. I just had to get off the field after that."
He hardly reserved all the credit for himself.
"I tip my hat to Jordan, too," Beshears said. "He made a hell of a play on that throw."
For the most part, Webb did that all night. In addition to setting a career-high for passing yards, he completed 70 percent of his passes — a number that would've been higher if not for a handful of drops — and demonstrated great poise and maturity in turning 13 of 18 third-down attempts into first downs.
"What I loved about our offense was we had some adversity, we had some devastating penalties that just killed us, but our guys kept fighting back," Long said. "They never lost their poise on the sideline, and I was very proud of that."
Throughout the night, it looked as if the team that crossed the goal line last would win. After scoring first and taking a 7-0 lead on a 15-yard TD pass from Webb — yet another moment that had Beshears' fingerprints all over it — the KU defense gave up three straight scores and appeared to be headed toward a 28-14 deficit before standing tall on a fourth-and-six play late in the first half. A pass from NIU quarterback Chandler Harnish to Nathan Palmer initially was ruled a catch, which would've set NIU up with a first-and-goal at the KU one. Instead, with Gill in his ear asking for a review, the referee turned to the replay and saw the ball was dropped. KU took over and, six plays later, tied the game at 21 on a 36-yard TD pass from Webb to Kale Pick.
"I want to give a shout-out to the offense," senior linebacker Steven Johnson said. "They had our back the whole game."
For many on the KU roster, big-name players who played key roles in Saturday's outcome, the victory over NIU was the first of its kind.
"No I haven't," said Beshears when asked if he'd ever been a part of a more exciting finish. "That was my first fourth-quarter touchdown like that."
For others, the fact that the Jayhawks now sit 2-0 and take a ton of confidence into next week's match-up at Georgia Tech, offered the chance to cheer after getting off to a start that almost no one expected.
"It feels great, man," said red-shirt freshman Brandon Bourbon, who tallied 37 yards on seven carries. "I just remember last year, standing around on the sideline, watching us get beat so bad. It was the worst feeling I've ever felt. And then turn to this year, when everybody's doubting us. To go out and prove people wrong, it's the greatest feeling I've ever felt."
Added Johnson: "That 'Sports Illustrated' thing where were supposed to only win one game … that's out the window. But it feels great. We're looking forward to next week, and we want to get another one."
Copyright 2018 The Lawrence Journal-World. All rights reserved. This material may not be published, broadcast, rewritten or redistributed. We strive to uphold our values for every story published.