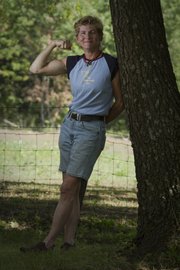 Tucked away at the edge of Lecompton, near the Kansas River, lives Cheryl Harper, a 5-foot-5, 118-pound grandmother who is one of the best female arm wrestlers in the world.
And today at the Kansas State Fair in Hutchinson, Harper will defend her Kansas State Women's Lightweight arm wrestling title. Again.
Harper said that she doesn't really know how many times she's won at the state fair but that she's probably won every time she has shown up.
Arm wrestling is a 29-year-old hobby that's taken Harper across the country and the globe, as she's competed everywhere from Billings, Mont., to Italy, where she placed eighth at the world championships in 2009.
Harper's first tournament was back in 1982 when she was 18, after she was "dared" by her friends to sign up for a tournament at a local bar. She swept through seven competitors and took home a trophy.
"I was hooked," she said.
In her victory, Harper also figured out a way to embarrass grown men who underestimated the strength of the pint-sized Harper.
"I paid for all my drinking in college through arm wrestling," said Harper of winning bets with men who were sometimes seemingly twice her size.
In the past three decades, Harper's honed her technique at the handful of tournaments she competes in every year. But she attributes most of her success to growing up country strong, baling hay and working the land. She eschews working out at the gym and confesses to having no training regimen at all. Just like that first tournament, she shows up and wins.
Even two brain aneurysms in 2006 wouldn't slow her down for long. Sure, she lost some muscle after spending weeks in the hospital, but it all just seemed to come back, she said.
Harper said she arm wrestles for the adrenaline rush, but also enjoys the camaraderie built among the arm wrestlers, who get to know each other well over the years.
"It's like a big family reunion," she said.
And while people might expect gruff, tough, muscle-bound arm wrestlers, it's quite the opposite, Harper said.
She told a story from last year's tournament about a young man in a wheelchair who stopped to watch the event. A few of the competitors talked to the man and persuaded him to compete. Being held up at the waist by two men, the man was able to arm wrestle — and won a match.
"He was taller than life," said a smiling, excited Harper. "Just fabulous moments like that."
Copyright 2018 The Lawrence Journal-World. All rights reserved. This material may not be published, broadcast, rewritten or redistributed. We strive to uphold our values for every story published.