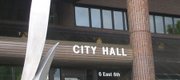 Subscribe to the email edition of Town Talk and we'll deliver you the latest city news and notes every weekday at noon.
News and notes from around town:
• Visitors to Clinton Lake State Park may notice a change in the landscape. Large-scale tree clearing has been taking place on privately owned ground just north of the state park office. Park Manager Jerry Schecher said the 75 acres once was densely forested and was robust wildlife habitat. Now, Schecher said, essentially all trees on the property have been removed, except for a row along the edge of the property line. According to county records, Lawrence builder Mike Stultz owns the property. I tried a couple of times over the last few days to get in touch with Stultz, but I had no luck. According to the Lawrence-Douglas County Planning Office, Stultz hasn't filed any plans for a new development at the site — which I believe is designated as a residential area in the county's long-range plans. Schecher said he also hasn't been notified of any development plans for the property. But he said he is concerned about erosion, drainage issues, and the impact the cutting has had on wildlife habitat next to the park.
"As a steward of the environment, I am concerned about the practice of clear-cutting and burning old standing timber," Schecher said.
I don't really know what is going on here, but there is an interesting twist to all of this. If you remember, a divided Lawrence City Commission and Douglas County Commission this summer passed a new "Environmental Chapter" that was added to the city and county's long-range plan. That chapter directs the city and county's planning office to create new regulations that would "preserve and sustain woodlands within Douglas County." The chapter also makes several other references to protecting wooded areas including a statement that calls for "environmentally sensitive site design practices which minimize the unnecessary physical and visual impacts upon the surrounding landscape caused by removal of woodlands."
I don't have any way of knowing whether the recent tree-clearing activity was done in an attempt to get ahead of any forthcoming regulations because I was unable to reach the property owner. But the timing does bring up some issues. I've also received a report that significant tree clearing has occurred on a site in the northwest part of the county. I'll be checking that out and will let you know if I find anything interesting. City commissioners approved the Environmental Chapter on a 3-2 vote (Amyx and Carter opposed) in June. County commissioners approved it on a 2-1 vote (Flory opposed) earlier in the summer. So the chapter is an official part of Douglas County's plan now, but it is important to remember that the chapter didn't create any new regulations or prohibitions when it comes to tree clearing. It just creates as a goal that the city and county should create such regulations in the future. It will be interesting to watch this issue develop. Will the county see an increase in wide-scale tree clearing by property owners who fear new regulations may impact their ability to develop their property? Also, will all of this re-ignite the debate on the environmental chapter? There are many rural landowners — and I'm sure some urban ones too — who believe that government regulations about what trees can be cut down and which ones must be saved are a serious intrusion on private property rights. The Lawrence Chamber of Commerce vigorously opposed the chapter on the grounds that it had not been adequately explained to rural property owners and that the private property rights issues had not been fully debated. The issue of protecting woodlands is just one of several addressed in the chapter. Other areas where new regulations are called for include:
Codes that would limit what type of development could occur near streams.
Local protections for wetlands that would be in addition to the state and federal protections.
Ordinances that would protect undisturbed and undeveloped pieces of plant and wildlife habitat.
Codes that would protect prime agricultural soils from development.
• Visitors to Downtown Lawrence may notice a change in scenery as well this week. A temporary wooden wall — 24 feet long and 8 feet high — is scheduled to be erected today in the vacant lot just south of the Granada and the Einstein Bagel location on Massachusetts Street. Artists will be painting graffiti art on the wall all week. This is leading up to an event on Saturday, Sept. 17, at the Granada that will be a celebration of music and art. The event, dubbed Grande Granada Gala, will feature a performance by the hip-hop artist Chali 2na of Jurassic 5. (I think it is pronounced Charlie Tuna, although I thought he still was with Starkist.) The event also will feature a gallery showing of artwork inside the Granada, and artists will be doing live "impromptu painting" of the wall most of the day on Saturday.
"I really just want to see more people doing arts shows, lively shows that attract all sorts of people," said Brendan Martinez, a Lawrence artist who is working on the show with fellow artists Jordan Tarrant and Erok Johanssen. "I don't want art to be such a secluded thing."
• Get out the leather and crank up the Steppenwolf. Bikers are ready to invade Lawrence. Oh, not those type of bikers. We're talking about bicyclists. Get out the Lance Armstrong posters and spandex, I guess. Regardless, there will be a lot of bicyclists in Lawrence, not this weekend but the weekend of Saturday Sept. 17. The city is expecting 2,500 bicyclists to be in town for the weekend as part of the Bike MS Event. Bikers will be setting up a Biker Village in South Park beginning on Saturday, Sept. 17, and lasting into Sunday. Massachusetts Street will be closed to traffic from 5 a.m. on that Saturday until noon on Sunday. Some bikers will be camping in the park, but many won't. The Lawrence Convention and Visitors Bureau reports that 16 Lawrence hotels are completely booked on Saturday as result of the event, which was scheduled so that it would occur on a weekend when KU football is playing on the road. The event will begin at the Garmin headquarters in Olathe (update: Some will be coming from a location in Topeka too) and will overnight in Lawrence before riders return to the Garmin site on Sunday. The Biker Village will feature a Boulevard Hospitality Tent, which will be serving up beer and live music. (Beer, dancing and spandex. Who needs Dennis Hopper and his crowd?) The Lawrence restaurant Ingredient also will host a music and food festival on the east side of the park on Saturday, and other food vendors will be set up to sell to the crowd. Look out Lawrence, I'm finding my biker shorts.
Copyright 2018 The Lawrence Journal-World. All rights reserved. This material may not be published, broadcast, rewritten or redistributed. We strive to uphold our values for every story published.