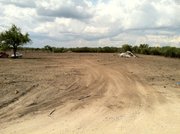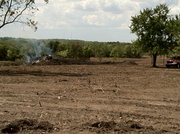 Bulldozers and bonfires have been busy in a pair of rural Douglas County woodlands owned by a Lawrence developer.
The Journal-World received multiple inquires about bulldozers that have been clearing acres of trees on 75 acres just north of the ranger station at Clinton Lake State Park and on 160 acres about one-half mile north of the Lecompton interchange on the Kansas Turnpike.
Lawrence developer Mike Stultz owns both pieces of property, according to county records, but multiple attempts to reach Stultz for comment were unsuccessful.
Lawrence-Douglas County planners said there have not been any development plans filed for either piece of property. But the clear-cutting comes at a time when new regulations limiting large scale-tree cutting are on the horizon.
City commissioners and county commissioners both narrowly passed a new environmental chapter that was added to the city's planning documents. That chapter has directed planning staff members to create new regulations that would "preserve and sustain woodlands within Douglas County."
"If they are clear-cutting and diluting the land to avoid whatever changes might come, that is unfortunate," said Douglas County Commissioner Nancy Thellman, who wasn't aware of the cutting operations. "I don't think we're going to set unreasonable expectations. We're not about stopping growth and development."
Currently, the county does not have any prohibitions on large-scale tree removal on agricultural land, especially if no development plans have been filed, said Sheila Stogsdill, assistant director of planning.
The city and county have not set a timeline for creating the new regulations called for in the environmental chapter. The situation has created uncertainty about what type of regulations will be governing rural development in the future.
"I think in the rural area there is quite a concern among landowners," said County Commissioner Jim Flory, who opposed passage of the environmental chapter because he said it hadn't been adequately discussed with rural residents. "Their concerns are what many people's concerns are — more government, more government. There is an uncertainty that all of a sudden the government is going to be dictating every move they make on their properties."
In addition to calling for more regulations related to woodland protection, the environmental chapter also calls for codes that would limit the type of development could occur near streams, local protections for wetlands, ordinances to protect undeveloped pieces of plant and wildlife habitat and others.
At both of the sites, most of the tree removal is complete. The northwest Douglas County site is at the intersection of East 850 and North 1850 roads. The site near the state park is just north of East 800 Road and North 1415 Road. Both sites have large amounts of bare ground that once was heavily covered by trees.
Jerry Schecher, park manager at Clinton Lake State Park, said he was concerned about erosion, drainage issues, and the impact the cutting has had on wildlife habitat next to the park.
"As a steward of the environment, I am concerned about the practice of clear-cutting and burning old standing timber," Schecher said.
Copyright 2018 The Lawrence Journal-World. All rights reserved. This material may not be published, broadcast, rewritten or redistributed. We strive to uphold our values for every story published.