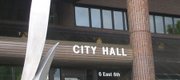 Subscribe to the email edition of Town Talk and we'll deliver you the latest city news and notes every weekday at noon.
News and notes from around town:
• It has been like watching my wife try to find third gear in the old F150 — painful and sometimes confusing — but I finally have confirmed that the folks who run Shawnee Mission Kia will be the operators of a new Kia dealership on East 23rd Street. Mike Andrade, co-owner of Lawrence's Auto Exchange confirmed to me that he's sold his car lot at 1225 E. 23rd St. to the principals of the Shawnee Mission Auto Group, which has the KIA and Hyundai dealerships over in Johnson County. (You know the jingle, "just a short drive from I-35." In Lawrence, I believe it will be "just a short drive from where the South Lawrence Trafficway maybe or maybe won't be.") I got in contact with a manager from the Shawnee Mission dealership, and he certainly isn't denying that they're opening a Lawrence Kia dealership but he declined to give any official comment or provide any insight into when the location may open. (I think Kia is Korean for we'll keep that Journal-World reporter guy guessing. The Koreans are very efficient with their language.) As for Auto Exchange — a used car dealership that has been in Lawrence for more than a decade — it will continue in business but at a new location. Well, kind of a new location. Andrade said he hopes to be open by the end of this week at 3301 Iowa St. Auto Exchange previously operated out of that location, which is basically diagional across the intersection from Wal-Mart, before turning all its attention to the 23rd Street spot. The location will be significantly smaller than the dealership's former lot on 23rd Street, but Andrade said he definitely wants to remain a part of the Lawrence auto market, which he says is on a real rebound.
"Lawrence is a good market," Andrade said. "It kind of holds to itself. A lot of Lawrence people choose to shop right here in Lawrence when it comes to vehicles. It is still a small town in that way."
• I don't believe any of them are planning to sell out of a Kia, but look for more mobile food carts to begin showing up in Lawrence. City commissioners at their meeting earlier this week opened the door for food trucks to begin operating on a wider basis in the city. Currently, when and where mobile food trucks can operate in the city is a bit like the leftover meatloaf in my fridge — uncertain. But now city commissioners are clearing that up (well, not the meatloaf). A new ordinance will make it clear that food trucks can set up on private property and operate for three hours per day without any special permissions from the city. They'll need permission from the property owner, of course. But the city has balked at the idea of allowing the food trucks to set up in city-owned parking lots or other public rights-of-ways. So in other words, you can't park your truck on Mass. Street and start selling. Commissioners said that wouldn't be fair to bricks-and-mortar restaurants who pay significant amount in property taxes. There were at least three companies at Tuesday's City Commission meeting interested in getting into the food truck business. One — Clinton Lassen of the Kansas Food Truck — is already in it. He's based out of 619 N. Second St. in North Lawrence. He currently parks there and sells out of that location from 6 a.m. to 3 p.m. on most weekdays. He'll now be looking for other spots to set up shop in the city. Shane Powers — the guy that does the bicycle rickshaw business in downtown — and David Rubenstein also are in the process of creating a food truck business, they told me. They may find a location in the downtown area, but a big focus will be to provide breakfast and lunch options for employees at East Hills Business Park and other more isolated locations around town. The third business expressing interest are the folks with Devil Dog Brew, an area coffee roaster that has plans to create a food truck that sells coffee and other items.
It will be interesting to see if the new rules bring new food trucks to downtown. There are a few private lots that might work for such locations, but who knows whether their owners are open to the idea. The Allen Press property at 11th and Massachusetts is largely unused during the evening hours. The Eldridge Hotel has a vacant lot next to its building, but of course, it also operates a restaurant. The Borders parking lot isn't as full as it used to be, although as we have previously reported a Halloween store will be taking up that space for awhile. There's also a privately owned lot off New Hampshire Street next to Scotch dry cleaners, and I'm sure there are others I'm not mentioning. But there are not a ton of options. Regardless food cart operators, I have a meat loaf recipe. (Or at the moment, some actual meat loaf.)
• OK, I know I'm not the sports guy here. (That's not to say I'm not an athlete. I have the old Marais des Cygnes Valley letter jacket to prove it. I still wear it on special occasions, although finding a tie to go with the orange and blue is a bit difficult.) But whether you are a sports fan or not, I think you ought to care about the future of the Big 12 Conference, especially if you're a fan of this part of the country. It seems that if the Big 12 Conference does dissolve, that's a significant step toward marginalizing the center section of the country. For good or bad, college athletics does help a region build an identity. It sure appears that our identity is close to being hijacked by the east or west coast. Again, I'm not the sports guy and I don't have any great sources in the arena, but some of you do know that I like numbers. So, I decided to take a look at some of the population numbers of the various conferences, with the idea that those numbers will drive the TV numbers now and in the future. The TV numbers, of course, drive the money. (And I just get this odd feeling that this whole thing may end up being about money.) Anyway, what I found is that the Big 12 certainly has some selling points from a demographic standpoint, if there is anyone left in the conference to do the selling. Consider these points:
The five states that currently have Big 12 institutions collectively have had the highest population growth rate over the last decade of nearly any major conference. (I haven't figured the ACC yet. It probably gives the Big 12 a run for its money.) The population of the Big 12 Conference has increased by 14.8 percent from 2000 to 2010. That's a selling point, but it also points out why the conference is unbalanced at the moment. The only reason the conference's growth rate has been stellar is because of Texas. The growth rates of Iowa, Kansas, Missouri and Oklahoma have been ho-hum.
The Big Ten — the conference that the University of Missouri seemingly drools over like the Sports Illustrated swimsuit edition — is a demographic dog, in at least one respect. That conference is on the verge of losing population. Its population growth rate was a measly 3.4 percent for the entire decade. But the numbers also point out a problem for the Big 12. The TV boys are likely looking at the here-and-now rather than the long-term future. The total population of states that have Big 10 institutions totals 69.26 million. For the Big 12 that number is 40.76 million. No matter how you slice it, there are more TV sets in the Big 10 country. But it sure does seem like you are hooking your wagon to a region in decline.
What about the Pac (You fill in the number here) Conference? It does give the Big 12 a run for its money in the population category. It has grown by 13 percent during the last decade, and it has a total population of 61.97 million — significantly more than the Big 12. But look what would happen if you could just tweak the Big 12 boundaries a little bit. If the Big 12 could add Arizona and Arizona State to the west and — let's say for the sake of argument — Georgia Tech to the east, the Big 12 would get the boost of two high growth areas. Under that scenario, the Big 12 would have a population growth rate of 16 percent and would have a larger population total than the Pac 12. And here's a key point — the conference would be achieving that growth with 12 members instead of 16 or some other ridiculous number. (The roll call at a Big East Conference meeting is going to take an hour in itself.) Can any of this happen? I don't know, and neither do you. It seems, though, that you could make this selling point to the Arizona schools: Sit there and watch the Big 12 implode, and the Pac 12 will turn into at least a 16-team conference. You'll be splitting your revenue 16 ways. Join us in the Big 12, and you've connected with a region of the country that is growing even faster than yours, and we'll split it 12 ways. (I know, the University of Texas is going to have to adjust its attitude.) The principals of division, though, can be on the Big 12's side. As for Georgia Tech, I'm reaching there, but is it unfathomable that they might like to be in a conference that is more football oriented? Does money not talk in Georgia?
OK, assume that scenario doesn't work. What does life look like in the Big East? Well, from a growth rate standpoint, it doesn't have much more going for it than the Big Ten. Its population grew by a whopping 5.8 percent for the decade. But it does have tons of people. Its population totals 107.5 million. That number, though, is for all Big East institutions. There are number of schools that don't play football, so how much that population number means to the TV networks is uncertain. In other words, the Big East is confusing. That's true on multiple levels. (We're flying to where? West Virginia???)
Anyway, take all of that for what it is worth. All I'm trying to point out is that there are some numbers that the Big 12 can use to try to ward off extinction. But what would really help is if the university big-wigs who run the BCS would show some leadership and publicly state that the automatic BCS berth that goes to the Big 12 would remain with a conference that is based in the center of the country. That would provide some stability to college athletics. But yeah, I know, I'll have better luck with my meatloaf.

Copyright 2018 The Lawrence Journal-World. All rights reserved. This material may not be published, broadcast, rewritten or redistributed. We strive to uphold our values for every story published.