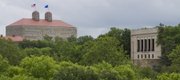 Subscribe to the email edition of Heard on the Hill and we'll deliver you the latest KU news and notes every weekday at noon.
Your daily dose of news, notes and links from around Kansas University.
• Centerplate, which provides concessions for Kansas Athletics events, has announced a few updates to its concession menu this year.
Among the offerings: a footlong jumbo corn dog; souvenir "KU Kandybars" made by Russell Stover, a company with strong ties to KU (so strong that its CEO, Thomas Ward, served on the search committee to find a new KU athletics director); smoked burnt end skewers; and, last but certainly not least, a bottomless 32 oz. soda.
The announcement did not — conveniently — mention the prices for said items.
• The new semester always seems to bring with it a whole manner of new and upgraded things.
The first floor of the Kansas Union, for example, got a bit of a facelift recently. The Kansas Memorial Unions installed new couches and more
Hannah Bolton, KU Student Senate's chief of staff, said student senators worked with the unions to install the new furniture, as students had asked for more lounge areas around campus.
A formal unveiling of the space is scheduled for 3 p.m. today.
Student senators worked with the unions to choose fabrics, furniture and the layourt of the new area.
The new space also has a catchy name: the "Rejuvenation Station." Other similar spaces are apparently in the works, too, so stay tuned.
• I think I'm going to have to work a little bit with the way I ask for tips occasionally. I heard from Peter Joseph Ramler on Wednesday afternoon, a couple days after I randomly pointed to his name in the KU directory and asked him for a tip.
You may recall that I asked him to "tell me something I don't already know."
His response:
"Recently the largest saltwater crocodile on record was captured in the southern Philippines, it measured 21 feet weighing 2,370 lbs. The now second largest live crocodile measures 18 feet in length and lives at a nature reserve in Australia."
While that's certainly something I didn't already know, I'm not sure if it's terribly KU-related. I'm not sure if Peter, a graduate research assistant in the Bureau of Child Research, was subtly mocking my tip solicitation process or if he genuinely thought we all needed more crocodile news in our lives.
Either way, I think all Heard on the Hill tipsters are magnificent, Peter, so, just for you, I found this lovely giant crocodile video.
• Keep sending those KU-related tips for Heard on the Hill to ahyland@ljworld.com. They're my own little Rejuvenation Station every day.
Copyright 2018 The Lawrence Journal-World. All rights reserved. This material may not be published, broadcast, rewritten or redistributed. We strive to uphold our values for every story published.