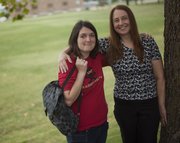 As students settle into new digs across town, Kansas University student Rebecca Cannon is staying put at her mother's home in Topeka.
"I'm not really that social of a person to begin with. So doing the whole dorm thing didn't seem appealing to me," Cannon said.
Cannon is part of a group of students who are ditching the dorm room and staying home. From financial savings to connecting with family, experts say that now may be the right time for such an arrangement.
"The cost of college is rising much faster than the cost of living," said Paris Strom, an associate professor of educational psychology at Auburn University in Alabama. "For any number of families who want to save money, living at home is not a bad thing at all."
Cannon graduated from KU in May, with degrees in linguistics and speech-language and hearing, and she is taking classes this fall to beef up her transcript for graduate school. She pays no rent, but does pay for her own food and gas with money she earns caring for senior citizens in Topeka.
For years, Cannon's friends asked her how she could stand living at home.
"I got good at defending myself," Cannon said.
She got a smartphone app called Road Trip to track her spending on gas and would show friends how much less it was than what they were paying for rent.
Cannon has spent $3,405 on gas for her commute, or about $4 a day since April 2009, when she began using the app. In comparison, a $400-per-month apartment would average about $13 a day, and a room in KU's McCollum Hall, the least expensive residence hall on Daisy Hill, costs $3,700 for two semesters, but jumps to $6,489 a year when the lowest-cost mandatory meal plan is added in.
Cannon said her friends have accepted her decision to live at home.
"The longer that it went on, the less that they thought it was a bad idea," Cannon said.
For Cannon's mother, Sandra Campise, her daughter staying home is a win-win. She said she doesn't make a lot of money at her job in food service at a Topeka veterans hospital, and having her daughter live at home lets her make a larger contribution to her education.
"She would have had to owe at least double what she owes now. It's just incredible," Campise said.
With one daughter already having left home for college at Baker University in Baldwin City, Campise said she didn't mind hanging onto her youngest a little longer.
"It wasn't like the empty nest, where the bird flies and says 'see ya,'" Campise said. "It has given me time to adjust."

She plans on letting Cannon live with her during graduate school, but said that mother and daughter have discussed paying rent. Campise's income may be going down in the near future, and rent could help make up for that.
Potential downside
Studies have outlined the disadvantages of college students living at home. They may miss out on forming bonds with peers or be less competent at navigating life in the future. In addition, students may feel like they are living in limbo, somewhere between childhood and adulthood. That ambiguous state can strain the family dynamic.
Other studies have highlighted the benefits of living at home, from lower debt to a greater opportunity for families to bond.
But Strom, who has studied the issue as an educational psychologist, said there is really no one-size-fits-all answer. Some young adults really do need to get away from home to further their development. It depends on the parents and their children.
"If they live at home with proper respect and responsibilities, then that's where the advantages come in," Strom said. "If they just live at home and there's no sense of responsibility for where they're living, then it becomes kind of like a parasite."

Campise said she and her daughter get along quite well, but added that the arrangement would not have worked out with her older daughter.
"She doesn't really like to be told what to do," Campise said. "Rebecca is more of a 'let's get along' person."
Strom's research has shown that young adults can benefit from close proximity to parents and the guidance parents can offer, though he acknowledges that guidance can easily be done via phone calls or visits.
"Just because you grow older doesn't mean you give up on being a parent," he said. "There's still a possibility from learning from a parent in ways that you couldn't really learn from them when you were younger."
Cannon agrees. She said living at home kept her balanced.
"It helped me succeed more to stay at home because there were fewer distractions and more stability," she said. "I'm the only person I know that actually graduated in four years."
Copyright 2018 The Lawrence Journal-World. All rights reserved. This material may not be published, broadcast, rewritten or redistributed. We strive to uphold our values for every story published.