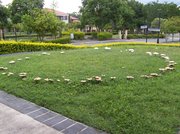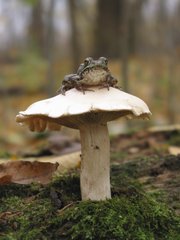 Although mushrooms can pop up anytime in your lawn, the cooler days of fall might inspire a crop in your yard. If they appear in a circle, you need not worry. The occurrence is known as a fairy ring and is common for several species of fungi.
The first time I saw a fairy ring, the mushrooms had popped up in a near-perfect circle about 20 feet in diameter. Because I was quite young, my father told me a story about fairies touching their magic wands to the ground to make the mushrooms. The circular formation was important, he said, so the toads that would sit on them could have a meeting — a round table discussion, I suppose. While I still appreciate the legend, their growth is more simply explained.
The web of fungi that a fairy ring mushroom grows from is very similar to mold on bread or cheese. Have you ever noticed how the moldy spot is usually round? Think of the fungus as beginning from a central point and growing outward at an equal rate in all directions. A mushroom is just a fruiting body of the fungus. Mushrooms produce spores for reproduction like a flower produces seeds, although the reproduction process differs between plants and fungi.
Sometimes a fairy ring circle is incomplete or only a few mushrooms are produced because of specific environmental conditions. In either case, the mushrooms can simply be removed and composted or placed in yard waste collection. They can also be left in the lawn. If children or pets are present, removing the mushrooms is a good option because they may be poisonous.
Occasionally, turf dies within the fairy ring or on the outer edge of the circle. The fairy ring fungus does not kill turf directly. Fungal mycelium (this is the white webby stuff growing under the soil surface) prevents water movement into the soil and the grass dies from drought stress. Core aerifying the turf and watering it will help. Also, stressed turf is more prone to damage, so follow good mowing, watering and fertilizing techniques.
Another possibility is for grass to appear greener in the circle or on the edges of the circle. Green rings are the result of heightened activity in the soil where the fungus is growing.
In this case, applying a minimal amount of nitrogen or iron fertilizer to the entire lawn will help to mask the symptoms.
Rain will make fairy ring mushrooms more likely to appear. If it rains hard enough, maybe some toads will come out for a round table discussion.
Copyright 2018 The Lawrence Journal-World. All rights reserved. This material may not be published, broadcast, rewritten or redistributed. We strive to uphold our values for every story published.