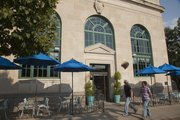 A bank robbery's pending in downtown Lawrence.
The Eldridge Hotel and Teller's restaurant are planning an event this month to re-enact the 1932 robbery of the First National Bank. Clyde Barrow of Bonnie-and-Clyde fame led the stickup, and, of course, Teller's, 746 Mass., occupies the building that used to house First National Bank.
Several accounts say that Barrow and two of his buddies stayed at The Eldridge Hotel, 701 Mass., for three days to stake out the First National Bank building. And The Eldridge and Teller's are teaming up to retell the story. The Eldridge will host a cocktail party before the event. Then the re-enactment will begin.
Actors with fake guns will walk from The Eldridge to Teller's, enter the building, give the crowd the what-for, take the fake loot, get into a 1930s vehicle and make their escape. Police will stop traffic in all directions to allow the car to pull out and leave, but the car will obey all traffic laws after that point.
If you haven't heard much about this heist, apparently it isn't a well-known part of Lawrence history. Folks who have researched it for The Eldridge say that police were never called to the scene because the bank was embarrassed about the robbery, and it was never mentioned in the media, either. But The Eldridge folks say the robbery is mentioned in a couple of books: "Running with Bonnie and Clyde" by John Neal Phillips and "My Life with Bonnie & Clyde" by Blanche Caldwell Barrow. In today's terms, about $550,000 was stolen.
City commissioners have to approve a permit for the re-enactment. Commissioners are scheduled to discuss it at their Tuesday meeting. If successful, The Eldridge hopes the reenactment will become an annual event. The event is scheduled for about 6:30 p.m. Sept. 30.
Copyright 2018 The Lawrence Journal-World. All rights reserved. This material may not be published, broadcast, rewritten or redistributed. We strive to uphold our values for every story published.