Photo Gallery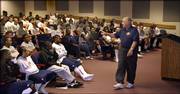 Don Fambrough: Through the years
Former Kansas University football player and coach Don Fambrough passed away today at the age of 88.
Fambrough, known for his undying loyalty and love of KU, was probably best known for his anti-Missouri feelings. In addition to vowing never to spend a dollar in the state — and backing it up — Fambrough often delivered a fiery anti-Tigers speech to the KU football team during Missouri week each season.
Players said they looked forward to Fambrough's speech each year and several even tried their hand at impersonating the old ball coach.
"Don Fambrough was an icon — not just on the KU campus, but across the state of Kansas," KU athletic director Sheahon Zenger said. "He wore his passion for KU on his sleeve, and every day he proudly demonstrated his love for Kansas Football and Kansas Athletics. He loved his players, and they played their hearts out for him. We will all miss him greatly."
Fambrough played offensive guard at Kansas from 1946-47 and then went on to serve two stints as the school's head football coach, first from 1971-74 and again from 1979-82.
He finished with an overall record of 36-49-5 during his eight seasons as head coach of the Jayhawks, and led the Jayhawks to two bowl appearances.
Fambrough is survived by his two sons, Preston and Robert, along with several grandchildren. Funeral arrangements are pending.
"Don Fambrough is a Jayhawk legend," KU chancellor Bernadette Gray-Little said. "As an alumnus and a storied and salty football coach, Fambrough had an unbridled passion for the University of Kansas. On behalf of the entire Jayhawk nation, I honor his memory and extend the deepest condolences to his family, friends and generation after generation of KU fans he touched."
Copyright 2018 The Lawrence Journal-World. All rights reserved. This material may not be published, broadcast, rewritten or redistributed. We strive to uphold our values for every story published.