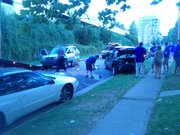 Police arrested an 18-year-old Lawrence man Saturday evening after the vehicle he was driving crashed into three parked cars before flipping onto its side.
According to Lawrence Police Sgt. Randy Roberts, the accident occurred in the 1000 block of Indiana Street just before 7 p.m. Roberts said the man had been driving northbound on Indiana Street when he drifted into the parked cars on the west side of the road. The small SUV he was driving then flipped on its side. The man was able to exit the vehicle under his own power and without any injuries.
The man was booked into the Douglas County Jail on charges of operating under the influence, reckless driving and possession of drug paraphernalia.
Copyright 2018 The Lawrence Journal-World. All rights reserved. This material may not be published, broadcast, rewritten or redistributed. We strive to uphold our values for every story published.