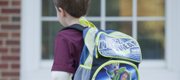 Subscribe to the email edition of First Bell and we'll deliver you the latest local education news and notes every weekday at noon.
Baseball players, coaches, fans and umpires all can expect some relief next summer, when the Lawrence school district will be expected to install permanent restrooms serving fields at Lawrence and Free State high schools.
The district must install permanent restrooms to comply with the city's building code, which requires that such facilities be provided within 500 feet of the fields' new permanent bleachers, which were ordered earlier this year.
District administrators only realized the requirement in recent weeks, as the bleachers started moving toward completion. Now they're starting work on plans.
Each building would cost no more than $150,000, and also likely provide space concessions, ticket operations and storage. The bulk of the money would come from the district's capital outlay fund, which finances major renovation and construction projects.
"It would certainly be a benefit to the patrons that attend softball and baseball games," said Mike Hill, athletics director at Free State High School, in northwestern Lawrence at 4700 Overland Drive. "We would benefit from it, and if this is the direction the (Lawrence school) board decides to go, then we would be happy with that decision."
Hill has been baseball coach at the school since it opened in 1997.
"We've gone 15 years this way, and everybody's seemed to survive," he said.
•••
The restroom requirements have forced the district to consider whether its other athletics fields comply.
Turns out there are no other problems, said Kyle Hayden, the district's chief operations officer.
New bleachers are going in at the soccer stadium at Free State, and those fans will be able to use new toilets and sinks going into the existing maintenance building at the northeast corner of the football stadium. Those restrooms are being installed as part of a previous donation agreement through DFC Construction.
Fans sitting in new bleachers for soccer at Lawrence High will be instructed to use Lawrence High's annex building, which was renovated this past summer. The building previously has been home to many uses, including, at one point, the district's administrative offices.
Free State softball fans will be able to use the new restrooms expected for construction next summer. Until then, the district expects to make temporary, portable toilets available on site.
Softball fans at Lawrence High will use the restrooms at the southern end of the school's football stadium, but not to comply with any building code. Per an earlier settlement agreement with neighbors, the district cannot install permanent bleachers at the softball field; thus, there is no requirement to provide restroom facilities.
•••
The new permanent bleachers at the fields range in capacity from 300 to 500 spectators, meaning that the city's building code would call for accommodating between 150 to 200 men at each site and then 150 to 200 women at each site, depending on the total number of seats.
That would mean guys could expect a minimum of either two or three "water closets" — that's toilets — and then at least one sink. The district could sub one urinal for one of the toilets and still comply with the code.
Women could expect either at least four or five water closets, and then at least one or two sinks.
In case you're wondering, the code requires more fixtures for women than for men.
Copyright 2018 The Lawrence Journal-World. All rights reserved. This material may not be published, broadcast, rewritten or redistributed. We strive to uphold our values for every story published.