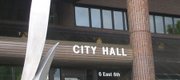 Subscribe to the email edition of Town Talk and we'll deliver you the latest city news and notes every weekday at noon.
News and notes from around town:
• UPDATE: Another high-tech pharmaceutical company is moving to the incubator facility on Kansas University's West Campus. KU officials announced this morning that Gyrasol Technologies is moving from Santa Fe, N.M., into space at the Bioscience and Technology Business Center on KU's West Campus. The company — which was founded by a KU graduate — is bringing two employees with it, and recently has hired two new employees. The company is projecting to add 12 employees over the next two years. Gyrasol specializes in helping pharmaceutical companies predict which drugs will work for cancer patients. The company is led by Susan Burgess, who received her doctorate in pharmacology from KU in 1980. She said she had long been aware of KU's growing research status in drug development fields, but she became interested in moving her company when she learned that local leaders had built a new 21,400-square-foot incubator and laboratory facility for private businesses on West Campus. The multi-million dollar incubator facility was built using a combination of public funds from the city, the county, the university and the state's bioscience authority. The incubator facility, which is less than 2 years old, now has 52 employees and has leased 66 percent of its space. Those numbers don't include the recent announcement that animal health sciences firm Argenta is finalizing a lease for the facility, which is expected to include 27 jobs over the next five years.
• All right, I get it. I should have learned how to handle a scalpel instead of a pen. I should have learned how to stick my fingers in someone's mouth instead of … I'm actually not sure where I'm going with that one. But I've been looking at newly released wage data from the state, and it is clear why those folks who were studying to be doctors never hung around with those folks who were studying to be journalists. We ran a brief article recently from the Associated Press that said orthodontists were the top wage earners in the state, according to the 2010 Kansas Wage Survey from the Kansas Department of Labor. So, I got to wondering what the situation was in Lawrence. The report provides some wage data for all of the state's metropolitan areas. What I found about Lawrence is that three of the top five professions in terms of average annual wages are in the health care field. And just for fun, I show what they make in Kansas City, Topeka and statewide: They are:
Physicians and Surgeons: $225,700; K.C., $182,301; Topeka, $213,850; statewide $169,940
Dentists: $192,590; K.C., $146,986; Topeka, $140,360; statewide, $157,930;
Chief Executives: $124,250; K.C., $161,869; Topeka, $148,110; statewide, $139,340
Sales Managers: $92,540; K.C., $116,473; Topeka $70,350; statewide $102,700
Pharmacists: $91,820; K.C. $103,073; Topeka, $92,230; statewide $103,270
Yeah, I know what about those of us who are squeamish around blood — don't think CEOs and sales managers don't enjoy a little blood letting. Here are some average annual wages for other professions of interests in Lawrence:
K-12 teachers had an average wage between $39,950 to $41,990, depending on what grade level they taught. Kansas City ranged from $42,408 to $47,744. Topeka ranged from $43,080 to $47,160. Statewide ranged from $41,490 to $44,360.
Retail sales managers in Lawrence averaged $34,310. K.C. $38,073; Topeka, $31,270; statewide, $34,980.
Executive secretaries and administrative assistants averaged $34,930. K.C., $39,969; Topeka, $34,170; statewide $37,320.
Plumbers in Lawrence average $42,900. K.C. $52,893; Topeka, $47,380; statewide, $46,440.
Firefighters in Lawrence averaged $42,530. K.C., $44,320; Topeka wasn't listed for some reason. Statewide, $36,190.
Police and sheriff's officers in Lawrence (remember that when this study says Lawrence it really means all of Douglas County) averaged $53,540. K.C. $52,759; Topeka, $36,610; statewide, $42,310.
If you still have the stomach for more numbers, the entire report can be found here.
• If none of those numbers cheered you up, maybe this will: There's more road construction beginning in Lawrence. Work is expected for the next five weeks on Kasold Drive from Trail to Peterson. The project will include a complete repaving and also will remove the cement median and replace it with a combination of stamped concrete and vegetation. Traffic likely will be reduced to one lane in each direction for much of the project.
Copyright 2018 The Lawrence Journal-World. All rights reserved. This material may not be published, broadcast, rewritten or redistributed. We strive to uphold our values for every story published.