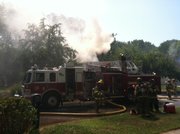 A Lawrence man was able to escape a fire Thursday afternoon that caused an estimated $175,000 in damage his northern Lawrence home.
Chief Mark Bradford of Lawrence-Douglas County Fire Medical said no one was injured in the blaze and that firefighters rescued one dog from the house at 3121 Creek Wood Drive, west of Deerfield School.
The fire was reported just before 1 p.m., and crews had the blaze under control 20 minutes later.
Bradford said the occupant called 911 after he said a motorcycle outside that was leaning against the house caught fire. The fire then spread through a soffit on the front the house and went directly into the attic.
"There was significant smoke because the total attic was fully involved in the fire," he said.
A crew went inside to fight the blaze.
"With the volume of fire that we had, we pulled those firefighters out and ended up doing a direct exterior attack," Bradford said.
Once water from a ladder truck extinguished most of the fire, the damage was evident. The roof and front of the house sustained significant structural damage.
Bradford said Thursday evening that fire investigators were unable to determine an official cause of the fire, although they think it originated in the area near the motorcycle.
The fire is classified as accidental.
Jane Blocher, executive director of the Douglas County Chapter of the American Red Cross, said the chapter provided lodging plus food and clothing assistance to the three residents the fire displaced.
Bradford said one cat in the home was unaccounted for.
No firefighters were injured, although Bradford said the department called for an extra crew because of the 100-degree temperatures and the high humidity.
Copyright 2018 The Lawrence Journal-World. All rights reserved. This material may not be published, broadcast, rewritten or redistributed. We strive to uphold our values for every story published.