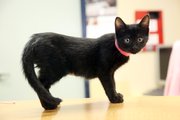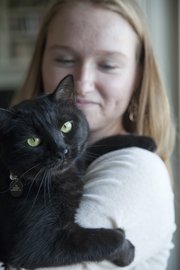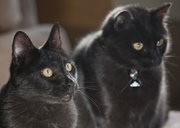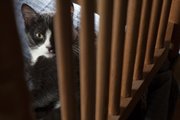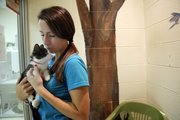 If black cats really are bad luck, then Katie Evans must have tons of good luck at her disposal just to keep her on solid ground.
The Lawrence resident lives with four black cats: two solid and two patterned with black.
And her luck's just fine, thank you very much.
"I'm not exactly sure where the black cat-bad luck thing comes from, but it's just one of those superstitions that has lasted," she says. "Just like walking under ladders, which I also do. Ha!"
In fact, if there's any luck at all in the feline-and-human equation, black cats are getting the short end of the stick. Nicole Aniello, an adoption counselor at the Lawrence Humane Society, says our eyes are often drawn to patterns, meaning both dogs and cats of a solid color get stuck in the lurch, black cats even more so because of the bad-luck component.
"With dogs as well, we have what we call shadow breeds. They're called shadow breeds because people pass them over like shadows," Aniello says. "With cats, it's the same thing. People tend to pass them over."
Because of that, the shelter, 1805 E. 19th St., has made specific considerations for them, says its executive director, Dori Villalon. Workers often put bandanas on the black dogs to break up the color and take care to give them unusual names to use during their stays. It's also cheaper to adopt a black cat; $35 is tops for what you'd pay for any black kitty, regardless of age. And, rather than keeping the black cats on lock-down around Halloween, the shelter is happy to find them homes around the holiday.
"There's always been kind of a myth and kind of anecdotal stories about how black cats are going to be at risk for perhaps satanic rituals or any other scary Halloween-related thing. But, really, in my 25 years of working in animal welfare, I have never heard of a cruelty situation involving a black cat and Halloween," Villalon says. "Really, if anything, if Halloween makes you think of black cats, then this is a great time to come down and adopt one."
Somewhat rare are the cat adopters like Betty Ruhlen, who has owned many black cats in her lifetime and who wasn't surprised when she ended up with another black cat after visiting the shelter. The Lawrence resident was looking for a kitty companion for her elderly yellow cat, Izzy, when she went searching for a cat who had just the right personality, no matter the color. She found exactly what she wanted in a black male she named Archie.
"I like all cats, but I especially do like sleek black cats," she says, adding that, more than color, she's looking for attitude and usually she'll find that in male cats. "I actually tend to prefer male cats. It could be that they're a little bit more ornery and aggressive."
A trivia buff, Ruhlen says that not only does she not believe in Archie's luck-sucking powers, but also that the rest of the world doesn't totally believe that either.
"I just discovered that white cats are bad luck in England," Ruhlen says. "In Germany, a black cat crossing in front of you from right to left is bad luck and from left to right is good luck."
Ruhlen picked up Archie during a period in August in which all adoption fees were waived for kitties at the shelter. The shelter has an ongoing incentive called Thursday Purrsday, in which all cats 6 months and older can be adopted for no charge. And besides the cat, adopters get a free cat carrier, collar, vet visit, microchip and bag of food; plus, there is no cost for any vaccinations the cat may have received, or for spaying or neutering.
Eleni Roussopoulos visited Purrsday with her heart set on getting a cat. She figured she'd get a gray one, but the second she walked into the cat room at the shelter, she was drawn to a spunky black-and-white furball named Lynx.
"I was looking for a gray one," she says, snuggling up to Lynx. "You can't really judge them by their color that much. It's more their personalities that'll get you."
Halloween cat safety
No matter what color your cat is, it's probably best to keep him or her safely indoors tonight. Dori Villalon, executive director for Lawrence Humane Society, says owners should be very cautious because Halloween changes the patterns of both your house and your neighborhood in a way that could be dangerous to kitties.
"I think any color cat can be at risk at Halloween. We always want to caution people about that, simply because there's more traffic outside that evening and your door is opening and closing," Villalon says. "Your cat can make it out accidentally, or there just may be more road traffic along your street. So it's always a good idea for cat guardians to make sure their cat is basically contained for that reason alone."
Copyright 2018 The Lawrence Journal-World. All rights reserved. This material may not be published, broadcast, rewritten or redistributed. We strive to uphold our values for every story published.