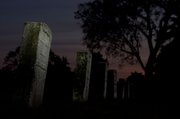 Welcome to a new feature in Go! about some of the interesting places and spaces in Lawrence. In this column, I hope to highlight some of the unique sites that make Lawrence not only a historic but also a very livable community.
So, on this Halloween day, the day on which the ancient Gaels believed the boundaries between the worlds of the living and the dead overlapped, what could be more appropriate than highlighting one of the most historic places in town: Pioneer Cemetery.
In 1915, Lawrence Daily Journal-World owner and editor W.C. Simons described the six-acre "city of the dead" as a quiet and beautiful space amid an area "teeming with life." So taken with the site, Simons initiated the first inventory of the cemetery, which had not had an interment since the 1880s.
Today, 70 19th century tombstones and partial headstones attest not only to the violence that marked Lawrence's early history but also to the relentless conditions of life on the frontier.
None exemplifies this more graphically than the 18 military stones in the northeast corner of the cemetery. These young men from the 13th Wisconsin Volunteer Infantry were on their way to Mississippi in 1862 but succumbed to typhoid fever after stopping in Lawrence on their journey.
Early residents Charles and Adeline Duncan buried three of their five children at Pioneer Cemetery, according to Karl Gridley, who conducted a second inventory of the site in 1996. Today, only 2-year-old Alfonzo's marker is discernible.
There are stones for 28-year-old George Coat, 31-year-old Louis Swan and 28-year-old Chester Hay, three of the nearly 200 victims of William C. Quantrill's raid on Lawrence on Aug. 21, 1863. While most of those slain on that bloody summer day were moved to Oak Hill Cemetery after it opened in 1865, it is from one of those who remains at Pioneer that we learn about some of the horrific details of the massacre.
A distraught Priscilla Jones described the events of the day in a letter to her sister, a copy of which is available at Watkins Community Museum, 1047 Mass.
"My dear Sister," she begins. "How can I begin and tell you the sad news — oh it is awful … the rebels got into Lawrence and oh what a sweep of everything killing every man they saw robbing the houses then fireing (sic) them, and oh dear Mollie must I tell you that among the first that was killed was our poor brother, Sam. He was killed in the street, shot thrue (sic) the heart they think ….
"Oh that we could get out of Kansas. I have been afraid ever since I came and now I can hardly live."
Jones also gives an account of the death of a black man, "one of the four or five" rebels who died during the raid.
"I don't think there was but three or four guns fired by our men they gave up and still they killed and fired on every one they could. … Oh I can't tell you anything about the distress there is in this place, so many without homes and friends."
Priscilla, 25, died Sept. 18, 1863, less than a month after her brother, apparently never recovering from the traumatic events of Aug. 21.
She is buried at Pioneer Cemetery alongside Samuel.
There are also the remains of Thomas Barber, an early martyr of the antislavery movement after he was gunned down by slavery supporter George Clark. Barber's death was memorialized by poet John Greenleaf Whittier, whose poem is on display in the cemetery.
Interestingly, Barber's headstone was rediscovered 16 years ago by a high school student. According to a May 1995 account in the Journal-World, Adrienne Smith was poking around the cemetery researching Barber's death for her history class when she came across the headstone, hidden by an overgrown juniper.
It would be hard to miss Barber's stone today, as the brush has been cleared and his large obelisk is a prominent feature of the site.
But Pioneer Cemetery is not just one of Lawrence's historic sites; it is an active cemetery containing the remains of more than 450 Kansas University faculty members and others with distinguished service to the university. "McCollum," "Ellsworth," "Malott" and "Wescoe" not only adorn buildings at KU, they can also be found among the stones placed after KU purchased the site from the city in the 1950s. The cemetery is on KU's West Campus along Iowa Street.
Just as Simons observed nearly 100 years ago, Pioneer Cemetery is still a quiet and beautiful place surrounded by an area teeming with life, and it is a perfect spot for anyone looking to reflect on the past or to contemplate the future.
Copyright 2018 The Lawrence Journal-World. All rights reserved. This material may not be published, broadcast, rewritten or redistributed. We strive to uphold our values for every story published.