Your Happy Halloween edition of news, notes and links from across Kansas University.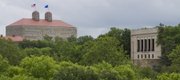 Subscribe to the email edition of Heard on the Hill and we'll deliver you the latest KU news and notes every weekday at noon.
• Here's something I didn't quite put together until I saw a recent Chronicle of Higher Education chart.
KU was second in the nation in faculty members receiving Fulbright awards to conduct research abroad this year, with nine. (Penn State was first, with 14).
The Chronicle used this list from the Fulbright program to come up with the list.
Recipients of grants included: Santa Arias, assistant professor of Spanish and Portugeuse; Hannah Britton, associate professor of political science; Bartholomew Dean, associate professor of anthropology; Micahel Detamore, associate professor of chemical and petroleum engineering; Edina Harsay, assistant professor of molecular biosciences; Terry Koenig, associate professor of social welfare; Sanjay Mishra, associate professor of business; Dale Urie, lecturer in humanities and Western civilization; and Nathaniel Wood, assistant professor of history.
KU was also ranked on the list of students receiving Fulbright awards.
• If art is your thing, Student Union Activities is sponsoring a bus that will take students to the Kansas City Crossroads District for "First Fridays."
The first bus will depart at 5 p.m. this Friday and will return at 10:30 p.m.
Tickets are $5 with a KUID and $2 with an SUA student saver card.
Art galleries open up new shows for the event, and there are some good places to grab a bite in the area, too.
Spots can be reserved and tickets purchased at the SUA box office on the fourth floor of the Kansas Union.
• Congratulations are due to the University Daily Kansan. The paper's website, Kansan.com, was awarded a Pacemaker award from the Associated Collegiate Press.
The newspaper reports the site also received the prestigious award in 2007, 2008 and 2010.
• How good of a costume would I need to go around trick-or-treating for Heard on the Hill tips instead of candy? I hope enough folks just send them to ahyland@ljworld.com so I won't have to do that.
Copyright 2018 The Lawrence Journal-World. All rights reserved. This material may not be published, broadcast, rewritten or redistributed. We strive to uphold our values for every story published.