Dozens of ghouls, goblins, zombies, princesses, cartoon characters — and at least one very convincing robot/mad scientist duo — descended on Massachusetts Street for the annual tradition of downtown trick-or-treating Monday evening.
Photo Gallery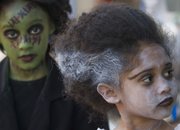 Trick-or-treat downtown, Halloween 2011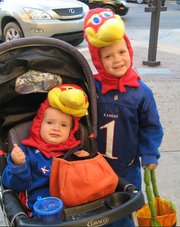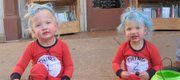 On the street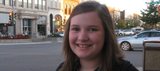 'Spy vs. Spy.' He had a good mask.
Beverly Dick, owner of House Parts, 714 Mass., passed out candy for the third year in a row because she said it was "a really great way for families to get out" on Halloween.
The streets were packed from 5 p.m. until almost 7 p.m.
Here are the stories behind just a few of the costumes spotted early in the evening:
• Twin 2-year-olds Jax and Croix Kelley, with their blue hair and red jumpsuits, got attention as Things 1 and 2 of Dr. Seuss fame. Their mother, Shawn Kelley, said that they loved the "Cat and the Hat" and so it seemed like a logical choice.
• Jerry Campbell thought Jax and Croix's costumes were some of the cleverest he'd seen. But his own 2-year-old's was pretty smart, too — Etta Bea trick-or-treated as her nickname, that is, with wings, a black-and-yellow "body" and a fairy-like wand, she was Bumblebee.
"Her favorite part is the stick," Campbell said.
• Logan and Carter Dinges are brothers and, respectively, dressed as Big and Baby Jay. Logan is older and says it was his idea to go with a Jayhawk theme
• Sarah Aistrup, who passed out candy in front of Genovese, 941 Mass., said that the best costumes she had seen were the "flock of baby chicks" — well, that was until a baby bunny walked by.
We'll have more photos as the night continues. You can share your own Halloween stories with us in the comments.
Copyright 2017 The Lawrence Journal-World. All rights reserved. This material may not be published, broadcast, rewritten or redistributed. We strive to uphold our values for every story published.