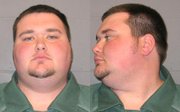 Douglas County prosecutors have filed three charges against a 21-year-old Lawrence man who is accused of pointing a shotgun at a Lawrence police officer and two other people early Sunday morning.
According to court records, prosecutors have charged Robert J. Milkey with one count of aggravated assault on a law enforcement officer and two counts of aggravated assault.
Lawrence police said Milkey was arrested early Sunday in the 1500 block of East 21st Terrace. A driver had called police to report a possible drunken driver about 2:15 a.m., and the caller followed the driver to the residence on East 21st Terrace.
Once an officer arrived and began talking to the caller, police accused Milkey of coming out of the residence and pointing a shotgun at the officer and caller.
The officer had ordered Milkey to drop the weapon. After he complied, he was arrested, Sgt. Randy Roberts said on Sunday. A judge set Milkey's bond at $4,000 Monday afternoon and ordered him to appear in court again Wednesday.
Copyright 2018 The Lawrence Journal-World. All rights reserved. This material may not be published, broadcast, rewritten or redistributed. We strive to uphold our values for every story published.