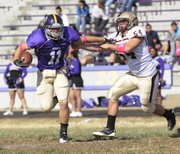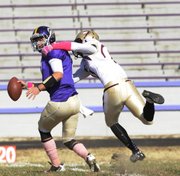 The young Haskell Indian Nations University football team is learning.
The Indians have just five seniors on the roster, so the young players are getting plenty of experience.
They fell to 0-9 Saturday with a 40-0 loss to Robert Morris University at Haskell Stadium.
"No freshman has quit," coach Jimmy Snyder said. "We've never had that. The future is bright."
Like any young team with talent, there were flashes of explosiveness and miscues Saturday. There are many new faces, and Snyder was promoted to head coach just this season, so there are going to be glitches.
The Indians have had chances to score all season, but missed by just a few inches,
"To find rhythm or cohesiveness that offenses need to be successful is difficult," Snyder said.
Late in the fourth quarter, junior Caleb Chaffin caught a pass from senior Ryan Alden that took the Indians to the two-yard line. In four downs, Haskell couldn't get it into the end zone.
"We're putting young guys in a position that takes experience," sophomore quarterback Maverick Lang said.
Speedy running back LaMont Wims scored the first four touchdowns for the Eagles.
Snyder said there were some missed tackles, but the Indians start nine freshmen and two sophomores on defense.
The defense stiffened in the second half, allowing just 13 points. There were more big plays from the offense as well, including a 30-yard catch by sophomore Tyler Blaylock and the 18-yarder by Chaffin.
Lang, who came in this semester as a transfer, has started at quarterback most of this year. He said the first part of the season was a carousel for him with the quarterback switch and the new system, but he's optimistic.
"I want to be the guy for the next three years that helps turn this program around," he said.
Snyder said that he recruits freshmen harder than he recruits high schoolers because freshmen are the ones who need to buy into the system.
"We'll be better next year," Snyder said. "I have no doubt in my mind. I don't think any of our young guys have any doubt."
Copyright 2018 The Lawrence Journal-World. All rights reserved. This material may not be published, broadcast, rewritten or redistributed. We strive to uphold our values for every story published.