Photo Gallery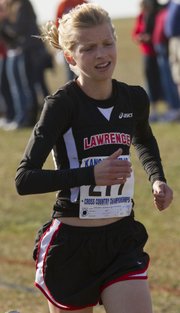 2011 6A state cross country
Sometimes when cross country runners finish a race, their bodies momentarily give out due to the amount of effort they have just exerted.
That last step in a 5K can be a doozy.
Saturday at Rim Rock Farm, Free State High's Kain Anderson didn't have that problem.
The Firebirds senior kicked it into another gear for the final stretch and came bounding across the finish line with a sizable grin that might not leave his face in the foreseeable future after taking second place at the Class 6A state meet.
"I think I could've kept going," a delighted Anderson said after finishing in 15:55, 27 seconds behind state champion Jacob Morgan of Washburn Rural.
That seemingly never-ending tank of energy came in handy in the last half-mile of the course. Free State coach Steve Heffernan saw Anderson in fifth place with about 800 meters to go and thought the Firebirds' top runner might be able to move up to third.
"Then I saw him come across the top," the coach said of the final stretch, "and I was really impressed."
Throughout the race, Anderson said he kept telling himself: "I'm not tired, I'm not tired, just keep going."
That's why he didn't let up one bit near the finish line. Anderson was in third, behind Bryant Keirns, Haysville-Campus, as the course neared the finish line.
His positive inner monologue kept up: "I see him. I can get him."
Anderson overtook Keirns and beat him by just more than a second to finish as the No. 2 runner in 6A.
"Second place, it's very sweet," he said.
Anderson felt even better when he made his way out of the chute behind the finish line and was mobbed by fervent family members, friends and teammates. Anderson joked he set a new personal record for hugs in the minutes that followed and said he was happy to have so many family members waiting for him at the finish line. He called them his support system.
"That, too, kept a huge smile on my face," Anderson said.
The runner's coach said the senior was more focused than usual for the state meet after they had spent the days leading up to it talking about doing something "worthwhile" and not being afraid of falling short.
"He finally put together all the pieces that I think most of us had seen," Heffernan said.
Anderson was so ecstatic he didn't even know what his time was just after the race. But he knew he had done something personally unique.
"That's the first time I've really gone for it the whole time," he said.
Anderson was one of just three city runners competing Saturday morning in the 6A boys race. His teammate Kamp Wiebe, also a senior, finished 21st, just three seconds in front of the solitary Lawrence High representative, junior Gavin Fischer.
The two runners from rival schools were close to one another throughout the race. When Fischer strained to stay upright after crossing the finish line, Wiebe was right there to support him as the two exited the area behind the finish line.
Fischer called Wiebe a "great guy" who pushes him all the time during cross country competitions and said they don't view each other as rivals.
"Out here we're both individuals," Fischer said. "We're both friends."
What led to the painful finish, the LHS junior said, was his getting too worked up during the ultra-competitive race.
"I had trouble staying relaxed," Fischer said.
He started hurting the most, he added, in the last push of the final mile.
"It's pretty painful," Fischer said. "You've just got to be mentally tough."
Neither LHS nor FSHS had a full team at state. Shawnee Mission South won the 6A team title.
Copyright 2017 The Lawrence Journal-World. All rights reserved. This material may not be published, broadcast, rewritten or redistributed. We strive to uphold our values for every story published.