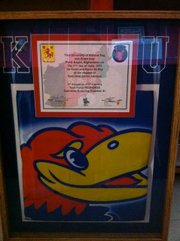 During her regular patrols, operating out of a post in the shadows of the Hindu Kush mountains, Army Spec. Janna Johnson would respond to calls and report positions and request assistance using the same radio call sign she'd been assigned when her unit arrived in Pul-E-Sayed eight months earlier.
"Hawkeye 22 Charlie."
"Hawkeye 22 Charlie."
"Hawkeye 22 Charlie."
Over and over, every day and night, the ID served as a nod to the origins of her Des Moines-based unit of the Iowa National Guard, one filled with soldiers partial to the University of Iowa and its pervasive Hawkeye mascot.
So imagine the relief, joy and pride that Johnson — a transplanted Kansan — felt the morning her fellow soldiers clasped her crimson-and-blue flag to some rope and ran it up a flagpole outside the detainee operations center that their 1st Squadron, 113th Cavalry had been assigned to maintain, operate and protect.
A giant Jayhawk flying high, keeping a watchful eye over about 100 enemy combatants awaiting transfer and her own Hawkeye-heavy platoon serving in Operation Enduring Freedom, encamped on the soils of Afghanistan.
"It was awesome," said Johnson, now on duty back in the states. "When I was over there, it stayed beside me the whole time. I'm patriotic, (and) patriotic to KU."
But Johnson knew the flag would mean even more to the woman who'd given it to her before her deployment, the woman who owns KU coasters and floaties and drinking cups and earrings and necklaces and slippers and everything else KU.
So Johnson presented the flag to her stepmom, a mother of all things Jayhawk.
"It touched me that she did that," said Karen McRay, who has a KU mousepad and KU candy jar on her desk at Labette Bank, where she works. "She knows how much of a KU fan I am. … I'm a crazy fan. People think I'm weird."
But the flag's journey doesn't end there.
Soon after McRay had accepted the giant Jayhawk flag, she'd taken it to a local frame shop to have it prepared for permanent display. Unfurling and flattening the flag behind glass would cost $800, so she opted for a shadow box: folded flag, crimson and blue matte, and certificate of authenticity from Army personnel certifying that the flag, indeed, had flown over Pul-E-Sayed on 21 June 2011 for McRay and her husband, Kevin.
She couldn't have known at the time that her proud possession would soon get a new home.
"My brother stole it," Karen McRay said, with a laugh. "He has it hanging in his restaurant."
So after making its way from Parsons to Des Moines, then to Camp Shelby in Mississippi, then to Afghanistan, then up a flagpole, then back to Des Moines and back home to Parsons, the well-traveled Jayhawk now is perched inside Pizzo's Restaurant, an Italian joint at the northern edge of town, 121 miles south of Lawrence on U.S. Highway 59.
There aren't many Hawkeyes down there — just plenty of Kansas State Wildcats at Karen McRay's bank, some supportive Jayhawks who visit her brother's restaurant, and others in town who welcome a symbol of strength that returned safely from a region where college allegiances give troops a connection back home.
Thankfully, Karen McRay said, her stepdaughter's flag doesn't face much flak from any stateside enemies.
"There are no Missouri fans down here," she said. "We don't allow those."
Copyright 2018 The Lawrence Journal-World. All rights reserved. This material may not be published, broadcast, rewritten or redistributed. We strive to uphold our values for every story published.