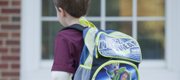 Subscribe to the email edition of First Bell and we'll deliver you the latest local education news and notes every weekday at noon.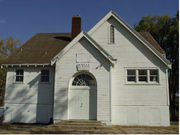 For sale: A former one-room schoolhouse at the edge of North Lawrence.
Price: You name it.
"It's an 'absolute' sale," said Bill Fair, the an auctioneer who will be — you guessed it — auctioning the place next month.
The old White School building will go to the highest bidder who can produce $10,000 in cash or personal check the day of the sale, then come up with the rest within 30 days.
The buyer will get a structure built in 1929 in rural Lawrence, a 1.5-acre site now marking the northernmost border of North Lawrence. At 1510 N. Third Street, it is just south of the southeast corner of U.S. Highway 59 and U.S. Highway 24-40, the well-known Teepee junction that is outside the city limits.
At some point the building served as a school, as evidenced by the sign above the door, the one-room classroom inside and a teacher's office off to the side.
And that's not all.
"You can walk in and smell it, instantly: It smells like a school," Fair says. "It's in the flooring."
What, exactly, is in the wooden floor remains unclear. After its school days, the building eventually became a bar, Ichabod's, and then played host to a number of special events, fraternity and sorority parties.
Fair figures the place could accommodate some sort of commercial business, given that some 12,000 vehicles drive by each day. Or it could even be a residence.
Or it could remain a piece of nostalgia, a rural schoolhouse of times gone by.
"It's like walking into a grade school, an old grade school," says Fair, lead auctioneer for Bill Fair & Co., Lecompton, still contemplating the familiar scent he can't seem to shake. "It's kind of a chalkboard smell."
The auction is set for 11 a.m. Nov. 19 at the site. Anyone wanting to check out the school — and its smell — in person may drop by from 4 p.m. to 6 p.m. Nov. 11, or an hour before the sale, or by appointment.
For more information, check out the property's auction bid kit at BillFair.com.
•••
Friends of the Kaw, a Lawrence-based organization that works to protect and preserve the Kansas River, has secured a grant from the Environmental Protection Agency to help create a program to help teachers in two Kansas City, Kan., high schools educate students about the river.
The EPA's regional office announced Thursday that the organization would receive a $29,902 environmental education grant, one of six such grants being presented to schools, universities and others in the region that covers Kansas, Iowa, Missouri and Nebraska.
Friends of the Kaw will work with four teachers from Schlagle and Wyandotte high schools to develop supportive curriculum, workshops and training for the use of computers — using ultrafast Internet service — for mapping, Google Earth presentations, GIS systems, three-dimensional visualizations and other projects and programs.
Friends of the Kaw also received an environmental education grant, for $19,566, in 2008.
Copyright 2018 The Lawrence Journal-World. All rights reserved. This material may not be published, broadcast, rewritten or redistributed. We strive to uphold our values for every story published.