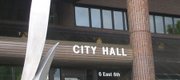 Subscribe to the email edition of Town Talk and we'll deliver you the latest city news and notes every weekday at noon.
News and notes from around town:
• There was no national championship for the Jayhawks in 2011, but Lawrence sales tax collections are on pace to have their best year since that magical season of 2008 when everything from Final Four parties to commemorative T-shirt sales provided the city's coffers with a major boost. Through September, the city's sales tax collections are up about 3 percent from the same period a year ago. If the final quarter of the year finishes strong, it will mark the first signs of growth in Lawrence's retail economy since 2008. The results thus far have some in City Hall feeling a little better about the future. It is easy to get caught up in the fact that the ever-important housing sector in Lawrence hasn't bounced back, but there have been some signs that retailers still have quite a bit of confidence in Lawrence's economy. In the last couple of years, nearly every grocery store in the city has undertaken major renovations. Plus, several regional or national chains have looked hard at Lawrence. That includes Lowe's, the Olive Garden, Natural Grocers and Mattress Firm in recent months.
But on the flip side — in this economy there is always a flip side — if the city's property tax base does start to drop, as many are predicting, that will still leave the city in a bit of a budget pickle. Plus, expenses at City Hall are up. Folks who say inflation is under control, evidently don't pay the city's health insurance bills. In other words, I'm not expecting all the financial news out of City Hall to be as positive as the sales tax numbers. But we'll leave that for another day.
• One Lawrence company that you perhaps have not heard of received some very positive financial news recently. Horizon Analog confirmed that it has received $5 million in equity capital from a Phoenix-based venture capital fund. Horizon Analog has developed technology that is designed to significantly reduce the amount of interference that smart phones and other similar devices experience, said Robert Herrington, the company's CEO. The company already is through the testing phase and now is ready to start seeing the technology deployed in the marketplace.
"We're looking for partners and customers right now," Herrington said.
The $5 million investment — which came from a venture capital fund led by Moral Compass Corp. in Phoenix — will allow the company to pick up the pace on those efforts. Horizon Analog currently has seven employees at its offices in Downtown Lawrence. Herrington said he does expect to add "several" new technology and sales positions in the near future. As part of the investment, Josh Rosen, managing partner of MC Advisors, will join Horizon's board of directors.
"We are excited about the potential of this technology to become pervasive in a diverse array of devices," Rosen said in a release.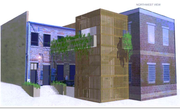 • Keep your eye on 715, the restaurant at 715 Mass. It has filed plans at Lawrence City Hall to convert its second-story space into an area for events and private parties. The restaurant, in fact, will have key hearing on its plans tonight at the Historic Resources Commission. In order to use the second floor, the restaurant is proposing to install an elevator. But adding an elevator to an 1866 building can be problematic. Instead, the group is proposing to build a new tower-like structure behind the building that would be connected to the second floor via an open air walkway. I tried to get in touch with the manager of the restaurant to get a few more details, but had no luck on Wednesday. If I hear more, I'll pass it along. The city's Historic Resources staff is recommending approval of the approximately $120,000 project.
• Also at tonight's HRC meeting, more signs that the old industrial district in East Lawrence is coming back to life. We've reported several times on the plans to rehabilitate the old Poehler building and the Vinegar building near Eighth and Pennsylvania streets. Well, now there is a plan for a rehabilitation at Ninth and Pennsylvania streets. Plans have been filed to refurbish the old Standard Oil complex at 846 Pa. The proposal calls for the rehabilitation of four old buildings that long ago used to be home to Standard Oil's Lawrence bulk oil operations. The project proposes a twist by seeking to build a new structure that would connect the four buildings. According to the application at City Hall, the existing buildings are intended to be used as offices while the new connecting building would be "public/private space that could be used for parties, receptions, art gallery" or other similar uses. The application doesn't identify who the ultimate tenant for any of the spaces will be. I tried to get in touch with the architect on Wednesday, but again had no luck. (All these people not returning my phone calls yesterday, gave me quite a complex.) City staff members are recommending approval of the approximately $300,000 project.
Copyright 2018 The Lawrence Journal-World. All rights reserved. This material may not be published, broadcast, rewritten or redistributed. We strive to uphold our values for every story published.