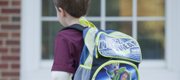 Subscribe to the email edition of First Bell and we'll deliver you the latest local education news and notes every weekday at noon.
Theater students at Lawrence High School are staging a presentation of "The Laramie Project," a chronicling of life in Laramie, Wyo., during the year following the 1998 murder of Matthew Shepard, a gay student who had been kidnapped, beaten and left to die at the outskirts of town because of his sexual orientation.
The play, by Moisés Kauffman and members of the Tectonic Theater Project, will be presented at 7:30 p.m. today, Friday and Saturday in the auditorium at Lawrence High, 1901 La.
Shannon Draper, who runs the theater program at Lawrence High, reports that she and Lawrence High students have had an "amazing experience" rehearsing and discussing the show. They are especially proud, she said, given that the play is being presented during "this particularly powerful time" in history, one in which "don't ask, don't tell" has been repealed in the military and gay rights continue to evolve in the United States.
Gay and lesbian students who are out at Lawrence High have talked with the cast and crew about what it's like to be gay at the school, and community members have spoken about issues of violence in the LGBTQ — lesbian, gay, bisexual, transgender and questioning — community. The cast also is learning how the death of Shepard, who had been a student at the University of Wyoming, led to changes in legislation and attitudes nationwide regarding LGBTQ rights.
Tickets are available at school.
•••
The Lawrence school board's goals for the 2011-12 school year are posted on the Lawrence school district's website.
The goals — approved by the board after several meetings and are split into three parts:
• Excellence: Raise the achievement of all students in the Lawrence Public Schools.
• Equity: Raise achievement for all students while closing the achievement gaps in the Lawrence Public Schools.
• Engagement: Develop a learning community of school, family and community partnerships committed to ensuring educational equity and excellence so that all students achieve at high levels and graduate prepared for success in college, careers and life.
Folks interested in seeing how the board — and, by extension, its administrators, teachers and others involved in district operations and education — plan to accomplish these goals, there are links to:
• Goals from the district improvement plan, which has been approved by the state.
• The district's specific goals and action plans to achieve them.
The information is all there online, and district leaders encourage folks to read the goals and, of course, engage.
Copyright 2018 The Lawrence Journal-World. All rights reserved. This material may not be published, broadcast, rewritten or redistributed. We strive to uphold our values for every story published.