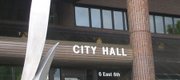 Subscribe to the email edition of Town Talk and we'll deliver you the latest city news and notes every weekday at noon.
News and notes from around town:
• All right people, listen: Natural Grocers, Natural Grocers, Natural Grocers. That is what is going into the space that used to be the Burger King at 23rd and Naismith. I tell you this with such conviction because, even though we have reported on the store quite a bit, it has been the question I've received the most over the last several months. (Well, actually, my wife asks me about my life insurance a lot, but that doesn't count.) Soon, you won't need to ask anymore. On Nov. 11, the Lawrence store, 1301 W. 23rd, will open for business. The Colorado-based regional grocery chain — its full name is Natural Grocers by Vitamin Cottage — has released several details about the store, which will be its 50th overall and its first in Kansas. Among some of the highlights:
The store will be competition for the locally owned The Merc at Ninth and Iowa, but company officials said they are convinced the Lawrence market is "under-served" in the natural and organic food category. Natural Grocers will stock: USDA-certified organic produce; meats without additives, antibiotics or hormones; a large supplement section; a Gluten-free department, and several other products. The store says it also will stock produce and products from local farmers and vendors whenever possible. The company has a section on its Web site —naturalgrocers.com — that allows local vendors to apply to have their products sold in the Lawrence store.
The store will start with 20 employees but plans to expand to 50 employees.
The store will employ a "credentialed nutritional health coach" to offer free meal planning and other counseling to shoppers.
The location will feature a community room where shoppers can get a free cup of coffee or tea and also use free Wi-Fi access.
The store will have a no paper or plastic bag policy. In other words, it won't offer you either one. It does offer cardboard boxes that the store accumulates, and it sells reusable canvas bags. It also will donate 5 cents to a local food bank each time a customer checks out with their own bags.
Hours of the store will be — and I don't have an explanation for this — from 8:56 a.m. to 8:04 p.m. Monday through Saturday and 9:56 a.m. to 6:06 p.m. on Sundays.
• I don't know if it is organic, but this next business definitely is a throwback — a new laundromat in Lawrence. Lawrence Laundromat is slated to open in The Malls Shopping Center at 23rd and Louisiana around Nov. 1, said owner Ross Razak. The laundromat will feature 20 (each) new, high-efficiency washers and dryers. The facility also will have a modern twist to it — many of the machines will accept credit cards. (Holy lint balls. My wife has just found a new way to break me.) The business also will include vending machines, a couple of flat panel TVs, and eventually the owner hopes to start a laundry drop-off service. The hours of the laundromat will be 6 a.m. to midnight.
• Speaking of twists, keep your ears open for one when it comes to the location of a new recreation center in northwest Lawrence. For quite awhile now, it has been assumed that if the city moves ahead with a new rec center project that it would be on city-owned ground just north of Sixth and Wakarusa. But now I'm hearing talk of an idea that would place the center at Sixth and the South Lawrence Trafficway. There is certainly no done deal on any of this, but City Commissioner Mike Dever during a study session on Tuesday made a point to mention that he didn't want to commit to a specific location for the center yet. That comment caused me to poke around a little. What I hear is that there may be interest in placing the center at the Sixth and SLT intersection in hopes that it would spur additional development out there. The intersection is planned to be one of the larger retail nodes in the city. But right now it has lots of new roads and utilities but no tenants. Lowe's officials rejected the site because they said there wasn't enough activity in the area. A recreation center/fieldhouse could help change that. I think some in City Hall also like the idea of having this recreation center/fieldhouse at the entrance to the community, and there might be more room for it to grow at that intersection than at the 40-acre site the city owns at Sixth and Wakarusa. I'm pretty certain the city only would be interested in the idea if the ground were donated. It will be interesting to see if this idea has any legs. I did note that Steve Schwada, who is part of a group that owns ground at the intersection, was in the crowd Tuesday afternoon listening to the recreation center discussion.
• Of course, it is not clear whether there are three votes on the commission willing to commit to the $15 million or so that would be needed to build a recreation center anywhere. Commissioners did not tip their hands too much on that subject Tuesday. The conventional thinking has been that Mayor Aron Cromwell and Dever are the two strongest votes in favor of moving forward with a recreation center.
But Commissioner Hugh Carter said a couple interesting things on the subject. First, he said he wanted to know whether building this recreation center would hamper the city's financial ability to build a new law enforcement center in the future. Carter has been a strong voice for considering space issues related to the Police Department. But Carter also talked about the offer from Bill Self's Assists Foundation to donate $1 million to the project. He said that while that offer was very generous, he wasn't sure whether it would justify the city speeding up its timeline for the project. But then he said he understands that Coach Self wants to help raise additional private dollars beyond the $1 million his foundation would provide. Carter wondered aloud what would happen if private fundraising efforts could raise $3 million, for example.
"Three million dollars could make a huge difference," Carter said. "That might cause us to say we really have to act now."
I think this whole Sixth and the SLT deal could be a game-changer as well. Again, I don't know if it has any legs, but if the city feels like it can build a recreation center that also would spur development in an area of town that it wants to develop, that could change the dynamics of the debate.
This project certainly has some hurdles, but all in all, I think it was a pretty decent day for folks who support a new west Lawrence recreation center.
Copyright 2018 The Lawrence Journal-World. All rights reserved. This material may not be published, broadcast, rewritten or redistributed. We strive to uphold our values for every story published.