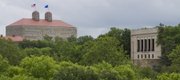 Subscribe to the email edition of Heard on the Hill and we'll deliver you the latest KU news and notes every weekday at noon.
Your daily dose of news, notes and links from around Kansas University.
• I see a lot of stuff zip through my email inbox, but one thing in particular caught my eye recently.
Namely, an announcement that the American Association of University Professors, along with "Concerned KU Faculty and Students" would be out on Wescoe Beach this week calling for better working conditions for non-tenure track instructors.
It's part of "Campus Equity Week," held every two years on campuses across the country.
This was interesting to me mainly because of the local chapter of the AAUP's involvement. The AAUP, a national organization of university professors that has a large voice on issues like academic freedom and tenure, hasn't — for whatever reason — historically played a large local role on campus.
Marisol Cortez, a visiting assistant professor in the American studies department, is an AAUP member and helped organize this week's event.
She agreed with me that the AAUP hasn't played a large role on the KU campus in recent years. She guessed the organization had about 40 members on campus, about five to 10 of which routinely showed up for regular meetings.
She said the "informational rally" this week would be designed to start a discussion on the poor pay and lack of job security that non-tenure track teachers face.
We had a good conversation — I asked her if she had any idea how reliant KU was on non-tenure track teachers, and she said that her group hoped to gather that information as a long-term goal. (And by the way, if anyone out there in tipster-land knows where I can get that info, I'd love to see it).
I also asked if she had any solutions to these issues — low pay and difficulty in predicting if they will be employed next year. She said they would welcome longer-term contracts, even if there were no way to convert non-tenured positions into tenure-track posts. She also had a solution that she admitted was a "radical" one — namely, that universities should ditch tenure altogether and establish professors' unions to eliminate the differences between tenured and non-tenured positions. (I suggested she not tell the AAUP, which rather seems to support the tenure concept, about that last one).
You can catch them, if you're so inclined, today and Friday out on Wescoe Beach from noon to 1 p.m.
• If you're not interested in engaging non-tenure track instructors in a discussion about their job security issues, you can mosey on over to a different part of Wescoe Beach today and Thursday for some pumpkin carving.
Students can donate $5 to carve a pumpkin, and vote on pumpkins carved by student organizations. The program benefits KU Dance Marathon, a group that sponsors a dance marathon each year, and has raised more than $75,000 for local children's hospitals since its founding in 2007.
And, as all good pumpkin-carving events should, this one will feature a wing-eating contest.
KU freshman basketball players Christian Garrett and Merv Lindsay will square off against two KU students that, as of Tuesday afternoon, still hadn't been named. An event organizer told me that the group had approached two students involved in student groups to participate in the wing-eating contest, but hadn't yet heard back.
• I mention this one because I've always thought KU's professional clothes closet was a good idea.
It provides free professional clothing to be worn at job interviews or career fairs for KU students. Nearly 200 students have used the service so far.
But now it's in need of some more donations, particularly modern suits. But they also need shirts, blouses appropriate to wear under a suit coat, dress slacks, skirts in darker colors, ties, briefcases and portfolios.
Donations can be dropped off in November at the University Career Center, 110 Burge Union; Business Career Services Center, Summerfield Hall; Journalism Career Center, 120 Stauffer-Flint Hall; Engineering Career Center, 1001 Eaton Hall; KU Athletics, Anschutz Sports Pavilion; and the KU Edwards Campus.
Items not accepted will be donated to local charities in Lawrence.
• Maybe those KU Dance Marathon folks should try a Heard on the Hill tip submitting contest. All they'd need to do would be to fire them all off, rapid-fire to ahyland@ljworld.com.
Copyright 2018 The Lawrence Journal-World. All rights reserved. This material may not be published, broadcast, rewritten or redistributed. We strive to uphold our values for every story published.