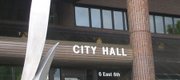 Subscribe to the email edition of Town Talk and we'll deliver you the latest city news and notes every weekday at noon.
News and notes from around town:
• I've gotten several questions about what's going into the former Pizza Street location next to Hy-Vee on Sixth Street. Well, I believe the location will become a Ditto. What's a Ditto, you ask? What I'm told is that it is a "hip clothing exchange." In other words, the company resells name brand clothing like Abercombie, American Eagle, Ann Taylor, Banana Republic, Urban Outfitters and others. (Yes. I cheated. I got those brand names off the store's Web site, which must have a hip detector because it wouldn't let me open anything on the site.) The company has several stores in the Kansas City area. I'm still trying to get in touch with a representative from the business. When I hear more, I'll let you know. It does appear, though, that construction work has begun on the site.
• As I mentioned, the store is going into the former Pizza Street location, which of course, is a buffet business that is no longer with us. (Rest in peace mashed potato pizza.) Well, there appears to be one Lawrence resident who takes his buffet eating at Peking Taste very seriously. A colleague of mine found this video on YouTube and I've decided to pass it along because it was spurred by information first reported in Town Talk. The video was uploaded by Seth A. Jones, according to the You Tube information, and he says he is speaking on behalf of Concerned Citizens for Peking Taste Buffet. He goes on for about five minutes over his concerns that when Peking Taste reopens in the Louisiana Purchase shopping center that it will no longer have a buffet. Among some of the highlights from his impassioned plea are:
He said his wife compared Peking Taste no longer offering a buffet to Southwest Airlines no longer offering flights. "My wife is an accountant. If she starts making analogies, something is wrong here."
"When I come to Peking Taste, I want all I can eat," Seth says. "I want broccoli and beef, all I can handle, hold the broccoli."
Seth says he doesn't eat crab rangoon because he thinks it's gross, but his friends like it. "Don't limit my friends on Crab Rangoons. They're good people."
Anyway, the entire video is here.
• Warning, I'm about to go all number nerd on you, so if you don't like math, go find your bunker and play the lottery. A few weeks ago, I posed the question of whether the $18 million in new debt that the city will take on for the expanded library will be a problem when it comes to the city's debt policy. The policy basically states the city's general obligation debt levels should not rise above $1,100 for every man woman and child. I noted that the city has calculated that it is at about $1,015 currently.
Now, the city retires debt all the time, so the number is kind of a moving target. But I noted that adding $18 million to the city's debt total may push us beyond our debt guideline. None of this is going to matter for the library. The city has committed to do that project, and the debt policy is just a guideline. It is not like a state law or anything. But the issue of how much debt is too much may come up when the city discusses whether to proceed with a northwest Lawrence recreation center that could be around $15 million. City commissioners will have a discussion about the recreation center at a study session this afternoon. I don't expect these debt numbers to be discussed, but now is as good a time as any to provide you an update. Here we go (release the number bombs):
The city completed an analysis that indicates the $18 million in library debt won't push the city over its guideline. But really, what the analysis showed best is that this is a complicated issue. Part of it is complicated because there is a big question about how many people actually live in Lawrence these days. When the city did its calculation, it used some numbers much different from the Census Bureau found as part of the 2010 Census. The city estimated that there are 93,927 people living in Lawrence in 2011. When the Census did its count in 2010, it counted 87,643 people. It seems unlikely that the city's population has grown by 6,200 people — or 7.1 percent — since the Census did its count in 2010. Of course it didn't, but the city hasn't ever said it agrees with the Census Bureau's count either. At some point, the city will have to decide whether to challenge it. But the point is, if you use the Census' numbers, Lawrence's per capita debt looks much different. So, let me cut to the chase. The Census found that Lawrence's population during the decade of the 2000s grew at 0.9 percent per year. If you take that 0.9 percent rate and calculate it forward (I've seen no evidence that we're growing faster than we did last decade), the city's 2012 population will be 89,226 people. The city has projected it to be 95,127 people. When the city did its debt calculation for 2012, it found the per capita amount of debt would be at $1,051. That's close to the guideline, but not yet above it. If you use a population estimate based off the Census data, however, the city will exceed the $1,100 mark in 2012. It pencils out to $1,120.
Another part of this calculation is what assumptions you make about how much debt the city will issue in the future. We know the city will add about $18 million of debt for the library project. But what about debt for other projects? The city doesn't put together a lot of future debt projections, and the city auditor has noted that it probably should. But for this analysis, the city assumed it would issue $5 million in debt for other projects. But that is not what history has shown. Over the last six years, only once has the city issued $5 million or less in new general obligation debt. Most years, it has issued well above $8 million in debt.
All of this creates a question about the idea of a recreation center in northwest Lawrence. If the city moves ahead with that project, there certainly will be a year in the not too distant future that it issues more than $5 million in new debt. Let's say that 2015 is the year the city perhaps would issue debt for a new recreation center. In 2015 — using the Census-based population projections from above — the city would need to have no more than $100 million in general obligation debt in 2015 in order to stay at or below the $1,100 per person guideline. In 2013, the city is expected to have $93.8 million in general obligation debt. If you add $15 million on for a recreation center, $5 million in 2014 for other city projects and $5 million in 2015 for other city projects the city would have a debt total of $118.8 million. The city will of course retire some debt between 2013 and 2015, but I'm not sure it will retire $18 million worth of it. Maybe it will. I didn't do any figuring on that. My calculator said "mercy."
The point of all this is that the city probably will have to take a look at this debt policy stuff if it really wants to do a recreation center project. The city could look at the policy and decide to ignore it. The city could look at it and decide to adjust the policy. It has not been adjusted for inflation since it was created in 2002. Honestly, I don't know if the guidelines are that important. The city has the second-highest credit rating that a city can have. But the city also wants to keep that high rating. These type of ratios are looked at by the rating agencies. But the city had its credit rating reaffirmed recently, and the rating agency didn't express any concern about per capita debt levels.
There also are folks in City Hall who are arguing that now is the time for the city to "stretch" itself a little on debt issuance because of the extremely low interest rates. If property values, however, do start to drop like some fear, that argument likely will wither away.
I'm not bringing any of this up to question whether now is the right time to be issuing more debt or whether a recreation center is a good idea or a bad one. I'm just bringing it up because — whether it is a good one or not — the city has a debt policy, and there are some indications that we could exceed it in the future.
And with that, I've exceeded even my tolerance for math. I may go buy a lottery ticket.
Copyright 2018 The Lawrence Journal-World. All rights reserved. This material may not be published, broadcast, rewritten or redistributed. We strive to uphold our values for every story published.