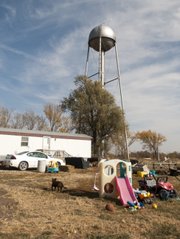 Jaylene Rosenberger already lives in the shadow of a big water tower near Big Springs in northwest Douglas County. She sure doesn't want it any closer — like on top of her mobile home.
But Rosenberger and other neighbors are worried that an odd set of plans to tear down an abandoned water tower at East 50 Road and U.S. Highway 40 are bound to create big problems in Big Springs.
"I won't be anywhere near it when he goes to tear this down," said Rosenberger, who lives less than 100 feet away from the water tower that is about 120 feet tall. "It scares the (expletive) out of me."
Shawnee County resident Shad Howbert recently bought the unused tower and the approximately 75-foot-by-75-foot lot it sits on from Douglas County Rural Water District No. 3 for $1, said Bruce Smith, manager of the water district. According to Smith and others, Howbert bought the 50,000-gallon water tank with the intention of selling its metal for salvage.
But Smith said the water district's board did not inquire how Howbert planned to remove the tower. Residents near the tower, though, soon found out and became concerned. Darwin Heyd, who lives across the road from the tower, said he had heard Howbert planned to cut one of the four legs off the tower and use a cable and bulldozer to pull it over.
"Their plan sounded like a bunch of good-old boys decided to pull a water tower down with a pickup truck," Heyd said.
Keith Dabney, director of Douglas County Zoning and Codes, confirmed that Howbert's plan basically was to pull the tower over.
"That is his plan but we haven't approved anything like that," Dabney said. "We absolutely would have concerns about that."
Dabney said his office placed a stop work order on the property after learning that Howbert planned to tear the tower down without a demolition permit. Dabney said that his office will need to receive proof that Howbert has at least $1 million in general liability insurance and that an engineer has reviewed his plans for dismantling the tower. Dabney also said that Howbert would need to provide more details about what he plans to do with the tower once it is torn down. Dabney said Howbert previously had said he planned to cut the tower up and take it to his Shawnee County home. Dabney said that likely would be in violation of Shawnee County zoning regulations.
Attempts to reach Howbert for comment were unsuccessful. But Howbert's brother, Shane Howbert, called the Journal-World and said he was speaking on his brother's behalf. Shane Howbert declined to say how the tower would be taken down.
"I'm not going to tell you," Howbert said. "It is none of your damn business."
Howbert, though, did say that all the project took was a "little common sense," and that he was confident that the work could be done without harming the nearby mobile home.
"I haven't ever dropped one (tower) before, but I've been cutting trees all my life, and it is the same principle," Howbert said.
Howbert said he believes some neighbors in the area are just trying to cause problems for his brother. He said one neighbor in particular is upset to see the water tower torn down because it has the name Big Springs on it, which is one of the few formal references to the unincorporated town.
Some neighbors said they are upset with the board of Rural Water District No. 3 and how it decided to dispose of the tower. But Heyd said those concerns stem from the fact the board did not take formal bids to dispose of the property. Smith, the water district's manager, confirmed the board did not formally advertise the tower and land for sale. He said that at least one other individual had expressed an interest in the tower and the land, but the board chose to take an offer from Howbert at their October board meeting because the board wanted to get rid of the liability of owning the unused tower.
"I don't care if they got $500 for it or $1 for it, as long as they auctioned it off to the highest bidder," Heyd said. "If we're just going to let people pull it down with a pickup truck, there would be lots of people bidding a dollar on it for the land."
Rosenberger said she also is upset at how the board has handled the situation, but she said her concerns aren't about the selling price of the tower.
"My concern is that it is going to land on my house," Rosenberger said. "He plans on pulling it to the east, but if it comes down to the west or the southwest, it is going to crush my home."
Copyright 2018 The Lawrence Journal-World. All rights reserved. This material may not be published, broadcast, rewritten or redistributed. We strive to uphold our values for every story published.