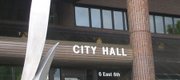 Subscribe to the email edition of Town Talk and we'll deliver you the latest city news and notes every weekday at noon.
News and notes from around town:
• It looks like we're going to go from golfing to sleeping at the corner of 33rd and Iowa streets. My sources tell me that Mattress Firm — the national retailer of, surprisingly, mattresses — is set to take over the Golf USA building once that retailer closes at the end of the month. As we previously reported, Golf USA lost its lease for the building, which is well-situated near the entrances for both Wal-Mart and the Kohl's/Old Navy complex. My understanding is that Mattress Firm will occupy both the space that Golf USA has and the former Mr. Goodcents space, which has been empty for months now. Look for the store to open in late January or early February, after renovation is complete. Mattress Firm bills itself as "America's Largest Bedding Store." Brands that it carries include: Sealy Posturpedic, Tempur-Pedic, Simmons Beautyrest, Stearns & Foster, Hampton & Rhodes and others. In the area, the company has stores in Merriam, Olathe, Overland Park, Topeka and Wichita. Nationally, the chain has more than 700 stores in 23 states. If your household is anything like mine, let the debate begin over whether this swap of retailers is a good trade. On the one hand, it probably hurts my chances of fixing my slice. But on the other, maybe it can help me quiet the snoring of a certain someone.
• There soon may be a new way to entertain yourself in Downtown Lawrence — tire flipping. A new health club in downtown will give folks a chance to be either a participant or a spectator in that event. As we mentioned in a recent article about the apartment building under construction at Ninth and New Hampshire, there will be a large health club on the ground floor of the new building. But I didn't have the time to share all the details of the club with you. As we have previously reported, the club will have two names — The Summit will operate like a traditional health club, while Next Level will be the part of the facility where members receive personal instruction from a trainer. The Next Level facility also may produce some good outdoor entertainment for folks in the adjacent US Bank Tower and other passerbys. The club will have a nearly 1,000-square-foot patio where club members will routinely do outdoor workouts. Those workouts include some traditional "strongman" type of routines, such as flipping tractor tires, pushing a sled and carrying around other large, heavy, awkward items. The Summit will be more traditional in that it will have the treadmills, stationery bikes, weight machines and the other devices you are used to at a health club. But it also will have a few twists. The club will have a unique system that allows people to bring in their own bicycles and hook them up to a simulator that allows people to "ride" almost any competitive cycling course in the world. The machine uses a large screen video and a device that creates and releases tension on your bike to simulate the hills, valleys and turns of a course. So in one day in Downtown Lawrence, you can flip some tractor tires and begin riding the Tour de France course. The health club is expected to hold its grand opening right after Thanksgiving.
• The city of Lawrence soon will be discussing whether it wants to expand its role in the health club/recreation center business. The City Commission will hold a study session with the city-appointed Parks and Recreation Advisory Board at 4 p.m. Tuesday at City Hall. The idea of building a new recreation center/fieldhouse on city-owned ground in northwest Lawrence is sure to be a topic of conversation. As we have previously reported, parks and recreation leaders are hoping for a facility that would be part recreation center and part fieldhouse. Parks and recreation leaders now are suggesting that the fieldhouse component include space for five gymnasiums that would give the city the space it needs to host basketball, volleyball and other types of indoor tournaments on a regular basis. The latest cost estimates show that such a five gym facility — with some space for a cardio and weight room and a walking track would cost $13 million to $15 million to build.
But, of course, building the facility is only part of the cost. Operating the facility is expected to cost about $500,000 per year, according to new estimates from parks and recreation. Those costs would include a mix of about a dozen full- and part-time employees to staff the facility. As we have previously reported, though, this facility may become the city's first recreation center to charge admission fees. Nothing is set in stone, but parks and recreation leaders have put together some suggestions on that. Fees could look something like this:
$500 for an annual pass for a family of four.
$250 for an annual pass for an adult.
$100 for an annual pass for youths.
$100 for annual pass for seniors.
The city also mentioned that it could bundle its membership to this center — which would be northwest of Sixth Street and Wakarusa Drive — with the memberships it sells to the nearby Indoor Aquatic Center.
The city is estimating that it could attract at least 20 tournaments a year that would pay the $3,000 each in rental fees to use the facility. Also the city is estimating another $80,000 in revenue from increased classes, leagues and concession sales. Overall, the city believes it could generate about $255,000 a year in revenue from the center, though they think that number could grow significantly higher once tournament organizers begin learning of the center.
If you want to learn more about it, here's a link that shows some of the design concepts and also tells more about the proposed site for the center. Tuesday's study session will be open to the public, but as is their practice, commissioners won't take public comment during the study session. Of course, commissioners also won't be making any decisions about the project. If this project moves forward at all, it will generate a lot of future discussion at City Hall and also with Bill Self's Assists Foundation, which has pledged to do some private fundraising for a portion of the facility.
Copyright 2018 The Lawrence Journal-World. All rights reserved. This material may not be published, broadcast, rewritten or redistributed. We strive to uphold our values for every story published.