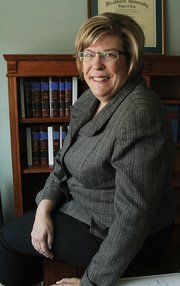 Carolyn Simpson never expected to be a lawyer in Lawrence, but she's found that she's content.
"There are many things I enjoy about practicing law," says Simpson. "It's never boring, and there's always something new to learn. I enjoy the intellectual stimulation of understanding and keeping up with changes in the statutes and courtroom work."
Simpson's idyllic childhood included staying up late to watch Disneyland fireworks from her Orange County, Calif., home. She spent hours in the ocean boating, swimming, fishing and scuba diving; playing flute and piccolo in her high school marching band; and participating in church activities. She enjoyed watching lawyer TV shows and movies, and she thought law was a lofty, honorable profession but didn't consider being a lawyer.
"I'm grateful my parents paid for four years' education for me and my two siblings," she says. "I didn't want to put myself through law school."
She met her husband Bill at Principia College, Elsah, Ill., in 1976 and graduated with a bachelor's degree in political science in 1978. She worked with Southwestern Bell in St. Louis, then moved to AT&T;'s national marketing team and eventually helped design their networks. She moved to Lawrence in 1983 when Bill enrolled in Kansas University's Ph.D. computer science program, and she transferred to AT&T;'s national technical center for marketing in Kansas City.
"I wasn't thrilled moving to Lawrence, but once here, we found people were fantastic so we decided to stay when Bill finished his degree," she recalls.
She completed her MBA at KU in 1986 while working full time, and when stress levels escalated in 1991, she left the corporate world to enroll at Washburn University's law school.
"I'm one of the few who went to law school to lessen stress levels," she says.
Despite the birth of her daughter Nicole in 1993, and some challenging undiagnosed health problems, Simpson graduated with her law degree in December 1996 and was admitted to the Kansas Bar four months later. Shortly afterward, she underwent surgery for a hole in the heart and made a full recovery.
She opened her own downtown law practice in 2004. She specializes in legal work to support the family unit, including adoptions and some criminal law work.
"My philosophy is to focus on a few areas of law and get very good at them," she explains.
"I enjoy helping families with guardianships that are often needed when an elder or disabled person needs care. It's challenging for families, and I admire them for stepping up at such difficult times. I also enjoy criminal law. I believe I'm not only defending the person, I'm defending the Constitution. If a defendant's rights are violated, the Constitution is weakened."
Simpson serves on the Criminal Defense Appointment Panel and is a member of the Douglas County Bar, Kansas Bar and Kansas Women Attorneys associations.
"I particularly enjoy practicing law in Douglas Country because of the camaraderie that exists between attorneys, judges and court staff," she says. "Attorneys are supportive of one another. We call one another for information and advice or just to let off some steam. We're a large enough district to have multiple judges and attorneys, but small enough to get to know most of the Bar."
Copyright 2017 The Lawrence Journal-World. All rights reserved. This material may not be published, broadcast, rewritten or redistributed. We strive to uphold our values for every story published.