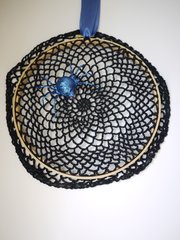 I've never been a big fan of the very scary aspects of Halloween. As far as decorations go, I'll usually stick to pumpkins. But this year I had a new idea — perhaps inspired by the many spiders in my basement sewing area — for a crafty spiderweb.
If you have crocheted doilies, this project takes virtually no time, and they won't be harmed in the process. If you crochet, you could make a doily just for this. I got mine while thrifting. If you don't have any, here's my tip: St. John's Rummage House, 1246 Ky., has a doily box upstairs in the room with sheets and craft supplies.
Supplies
Embroidery hoop
Crocheted doily
Fake spider
Method of attaching the spider: Clip, glue or thread are some options.
Ribbon for hanging, optional
Instructions
Find an embroidery hoop slightly smaller than your doily. Loosen the outer ring of the embroidery hoop and separate it from the inner ring.
Lay the doily on top of the inner ring with the edges hanging over about equally around the hoop. Fit the outer hoop over the doily and inner hoop, and tighten.
Attach the spider. Like I said, I have plenty of spiders in my basement, but I didn't think they'd stay put. I bought a glittery (and therefore not scary) spider that happened to have a clip on the bottom, so it was easy to attach to the doily. If yours doesn't have that, you could glue on a clip or sew it on with a few strands of thread.
Slip a ribbon under the tightening screw or through one of the holes in the doily and tie the ends together to hang the web, or just put it up on a nail or hook.
Display your spiderweb for Halloween, and when it's time to take it down, you can take it apart easily.
Copyright 2018 The Lawrence Journal-World. All rights reserved. This material may not be published, broadcast, rewritten or redistributed. We strive to uphold our values for every story published.