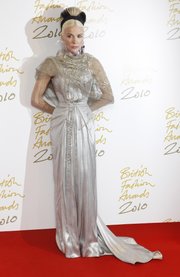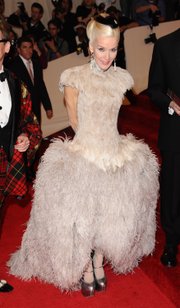 Whether it is the quick approach of Halloween, one of my favorite fall holidays, or all of the talk generated by the latest exhibit at the Fashion Institute of Technology (FIT), I'm not quite sure; however, lately, I have been particularly inspired by the personal styles of glamorous movie stars and renowned fashion icons. And British fashionista Daphne Guinness is no exception. Be inspired by Daphne, labeled "one of the most fascinating fashion icons in the world today" by FIT museum curator Valerie Steele. Discover how you can insert a bit of Daphne into your own dress code.
Female Dandy
Much of Daphne's wardrobe is menswear-inspired. Blazers, collared shirts and vests are sharp and tailored. Many outfits maintain a black and white color palate; however, by layering different fabrics and selecting pieces with extraordinary details, Daphne sets her look apart from the rest. To achieve a similar aesthetic, seek out a structured, fitted blazer. Focus on clean lines and impeccable tailoring, especially through the shoulders. Accessorize with bow ties, neck pieces or opulent jewels. Wear a head piece, floral hair pin or hat to complete your look.
Futuristic Warrior
Many of Daphne's pieces are military-esque. Armored vests, corsets and coats are protective and futuristic. Plaited fabric and structured material are used to cover and contain the top half of Daphne's silhouette. To get this look, seek out unique pieces in unconventional fabrics. One way to soften this masculine, military aesthetic is to select more ladylike fabrics (not to say Daphne does this always or often). Create a personal "uniform" for yourself with your favorite, powerful apparel.
Exotic Glitz
Daphne is known for her amazing couture collection, too. With pieces by Chanel, Dior, Valentino and, most famously, Alexander McQueen, Daphne's couture wardrobe doesn't lack pizzazz. Blinged-out body suits and studded shoes have superhero-like qualities, as though Daphne were portraying Catwoman; sleek, sophisticated gowns have Oriental tailoring, feathers and fur.
But Daphne still makes each piece her own, showcasing the design while adding her own personal style. Oftentimes, Daphne wears a tuxedo jacket or sharp blazer over her gowns.
She frequently accessories with her favorite rings — almost always wearing one or two on every single finger (inspired by Karl Lagerfeld, perhaps?).
Daphne is also known for her hair — bleached a bright white, streaked here and there with black.
Whether you're enticed by Daphne's dandy wardrobe or glitzy glamor, just remember to finish each look with something of your own. In this way, you will always maintain a distinct personal style.
Copyright 2018 The Lawrence Journal-World. All rights reserved. This material may not be published, broadcast, rewritten or redistributed. We strive to uphold our values for every story published.