Photo Gallery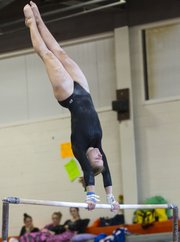 State gymnastics
Shawnee — Some impromptu number crunching might have made the actual announcement a tad anticlimactic, but Free State High's gymnastics team finished a dominating season by winning a state championship Saturday at Shawnee Mission Northwest.
Firebirds Jackie Zaitz, Grace Bartle, Annie Soderberg, Hannah Moran and Haley Johnson had kept watchful eyes on the scores of their competition at the state meet, so they knew the championship trophy was coming back to FSHS, which shared a title with Newton in 2009.
Said Zaitz: "We did a lot of calculations and sat there and thought about it."
Obviously, that knowledge didn't make the victory any less exciting. After holding the first-place trophy on stage, a day filled with hugs and high-fives produced even more of those, along with tears of joy.
Plus, first-year Free State and Lawrence gymnastics coach Danielle Hayes said, the Firebirds were stoked to learn they had beaten second-place Olathe East, which had all-around champion Allison Meads, by 3.9 points.
"I think they knew they were gonna win," Hayes said of Free State's gymnasts. "I just think they didn't realize how much they were gonna win by."
Much earlier in the day, the Free State gymnasts weren't feeling nearly as confident.
OEHS had been the Firebirds' biggest rival this season, because the Hawks won by a fraction of a point against FSHS once earlier in the year and kept the eventual state champions from going unbeaten in 2011.
When Olathe East led by a slim margin early in the competition Saturday afternoon, Bartle said, the Firebirds started doubting themselves.
"We thought Olathe East was gonna beat us," she recalled after finishing fifth in all-around points.
Hayes said the team got together and took a look at the big picture after the first two events — which still featured top-five finishes from Bartle in the vault and parallel bars and Zaitz in the vault — didn't go exactly as they had hoped.
"We kind of had to take a step back after our first two events," the coach said. "We were beating ourselves up, down on ourselves, not thinking it was going the way we wanted it to go."
With that discussion, Zaitz said, the Firebirds got over feeling down.
"We talked about how you should just put stuff behind you, not dwell on the past, basically," she said after a hugely successful day that put her second all-around to Meads.
What followed was a pair of performances that led to Free State's title. On the balance beam, Soderberg took second, Zaitz was third and Bartle finished fifth. Later, in their final event of a long day, Zaitz and Bartle grabbed second and third place in the floor exercise and Soderberg finished eighth.
Juniors Zaitz and Soderberg, as well as freshman Bartle, their coach said, made sure to pick each other up and finish the day strong with the help of Moran and Johnson.
"They had a really good day," Hayes said. "They feed off of each other."
Considering the program didn't have a coach and Free State wasn't even sure if there was enough interest to have a gymnastics team back in August, Saturday marked the conclusion of quite a remarkable run for the gymnasts.
"We had no idea they were going to step up and take over the program," Hayes said, before thinking ahead with a wide grin. "They're all gonna be back next year, so we'll have it again I hope."
Lawrence finishes 12th
The Lions were in the same boat as Free State before the season started regarding to the team's existence being in question.
Like its counterpart, the LHS program survived. Lawrence went to state with the help of its gymnasts, Wendy Hamm, Amanda Mehl, Cambry Lynch, Lindsey Fangman, McKenzie Olson and Allison Williams, and finished 12th in the team standings.
Copyright 2018 The Lawrence Journal-World. All rights reserved. This material may not be published, broadcast, rewritten or redistributed. We strive to uphold our values for every story published.