On the street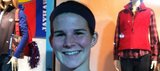 No. I think that's kind of immature.
When Kansas has the ball
Kansas rush offense vs. K-State rush defense
Once again, the featured match-up of the week comes when KU has the ball and tries to run. The Jayhawks rank 23rd in the nation in rushing (207 yards per game) and have done most of their damage on offense this season by utilizing their deep and talented stable of running backs. On the flip side, the K-State defense, led by linebacker Arthur Brown, ranks 16th in the country but has given up more than 100 yards rushing to an opponent four times in six games.

Edge: Kansas.
Kansas pass offense vs. K-State pass defense
So far this season, the Kansas offense has used the run to set up smart, safe passes that have been productive and efficient. Most of that success came during the nonconference portion of the schedule. After completing 25 passes for a career-high 316 yards in a loss at Oklahoma State in Week 6, KU quarterback Jordan Webb completed just 13 of 25 attempts against Oklahoma last week and finished with a season-low 108 yards. What's more, after not throwing an interception in the first three games, Webb has thrown five in the past three. Webb still ranks second in the Big 12 in pass efficiency (16th nationally), but the Jayhawks still are waiting for a go-to wide receiver to emerge.
Edge: Push.
When Kansas State has the ball
K-State rush offense vs. Kansas rush defense
Thanks largely to quarterback Collin Klein's 578 yards, 10 touchdowns and 4.2 yards-per-carry average, the KSU ground game is as dangerous as any in the Big 12. Add to Klein's 6-foot-5 frame the shifty running of starting tailback John Hubert (545 yards and 5.2 ypc), and the Wildcats own a nice 1-2 punch that can attack a defense in many ways. As a team, the Wildcats rank 25th in the country (206 yards per game) and run behind a big offensive line that averages 304 pounds per lineman.

Edge: K-State.
K-State pass offense vs. Kansas pass defense
KSU's passing numbers are weak, but it's not necessarily because Klein can't throw. It's more that he's not asked to. As KU coach Turner Gill said earlier this week, "They run. That's what they do." And anyone who knows KSU coach Bill Snyder knows he's not going to let someone force him to change. Although the Wildcats rank 114th (of 120) in passing, Klein has shown he's capable, throwing for 739 yards and seven TDs, with three interceptions so far this season. The 123 yards-per-game average won't scare anybody, and if the Jayhawks can put KSU in a position where it has to throw, the KU defense could flourish.
Edge: Push.
Special teams
KSU punt returner Tramaine Thompson leads the Big 12 in average (14 per attempt), and place kicker Anthony Cantele has hit eight of 12 attempts, including a long of 49 yards. Both stats give the Wildcats a clear advantage on special teams, even with KU's dynamic kick returner D.J. Beshears leading the Big 12 with 186.3 all-purpose yards per game.
Edge: K-State.
Copyright 2018 The Lawrence Journal-World. All rights reserved. This material may not be published, broadcast, rewritten or redistributed. We strive to uphold our values for every story published.