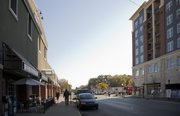 No matter what your feelings about the First Management construction project at Ninth and New Hampshire streets, the tower there has at least one incontrovertible role: light-blocker.
The project blocks the morning light that used to pour over the patios of the Bourgeois Pig, 6 E. Ninth St., and Z's Divine Espresso, 10 E. Ninth St., like hot coffee.
The managers of the two businesses can't pinpoint specific losses steeping from the months-long construction process, but when asked about the blocked light, regulars have a decidedly heated response.
"Yeah, it causes me to go back inside when normally I would stay and enjoy some beautiful weather," Pig regular Chris Ortiz said. "It used to be warm enough (to sit outside), but it won't be this year."
On this little part of Ninth, between Massachusetts and N.H., frustration with the building has been brewing since the summer.
Ryan Shelton, who's been a barista at Z's for three months, said losing the sunlight was a drag, but the real "huge mess" came in the form of the dust that plagued the patio during the heavier exterior construction.
"We like the front of the building to look nice," she said, "but it's nearly impossible when dust and trash is always blowing this way."
Construction is winding down and the building is here to stay — and so are most of the regulars, even if the reduced sunlight, noise, dust and mangled traffic and parking have gotten their tempers a little steamed.
No matter. Nicole Marshall, a regular at the Pig who had crossed over to Z's on Friday, summed up the effect of the tower, for better or worse.
"It definitely changes the feeling of the street," she said.
Copyright 2018 The Lawrence Journal-World. All rights reserved. This material may not be published, broadcast, rewritten or redistributed. We strive to uphold our values for every story published.