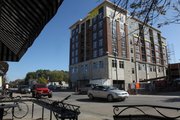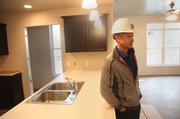 It was a Sunday morning, back when the roof of this seven-story building in the heart of downtown Lawrence was nothing more than a few steel studs.
Doug Compton grabbed a hard hat and sneaked up to the top. Well, he likely didn't sneak much. He's the leader of this $10 million project at Ninth and New Hampshire streets, and he'll go where he pleases — sometimes showing up on the job site three or four times a day.
But the point is, Compton didn't want to wait any longer. After all, there are plenty of opportunities to see downtown from the flat ground of Massachusetts Street. There are even a few to see it from a third-story loft, if you play your cards right. But when it comes to viewing downtown — and everything that surrounds it — from a seventh-story perch, those opportunities are still rare.
Compton is bringing you one of them with this building at the southwest corner of Ninth and New Hampshire. He's filed plans to bring you another skyscraper — by Lawrence standards anyway — at the southeast corner of the intersection, and he's already dreaming of how he could bring you a third on the northeast corner.
If Compton has his way, he's going to leave a mark on Lawrence's skyline. It already has left a mark on him.
"When I got up here, all I could say is, 'Wow,'" said Compton, one of the city's larger landlords and developers as president of First Management Inc. "This project absolutely has been a lot of fun. It is great to have a plan and a dream and then to actually see it.
"It is every bit as beautiful as I thought it would be."
Moving in
The 901 Building — as Compton calls it — will have several parts to it. The ground floor will be a health club occupied by the leaders of Next Level Fitness, a group that now offers private training out of a small gym in North Lawrence. The new health club will include a private training business, called Next Level, and a full-service public fitness center, called The Summit. The first floor also has space for a bistro/wine bar concept that opens onto a patio on the west side of the building.
The second floor will be about 10,000 square feet of office space. Compton hopes to move the corporate headquarters of his First Management firm — which has about 50 employees at its headquarters — to the building. But he hasn't yet committed to make the move because he hasn't found a tenant or a buyer for the company's existing headquarters in northern Lawrence.
But it is floors three through seven that have driven this project. Each floor will have 11 apartment units, with each level connected to the adjacent public parking garage.
The apartments will be the first part of the project to open. Plans call for some tenants to start moving in Nov. 1, with all 55 apartments completed by early December.
"We knew downtown living was going to be a hit," said Compton, who said the few apartments he has above his other downtown buildings always have a waiting list.
The project is 71 percent preleased, and Compton said he expects that number to grow in the next few weeks now that the building is far enough along that tenants can begin to see some of the finishes.
The project isn't going to turn downtown into a new student-housing district, Compton said. Primarily the tenant mix has skewed to young professionals. Studio apartments begin at about $800. One-bedrooms, which make up the majority of the units, begin at about $940. Two-bedroom units start at about $1,100.
All the units, which range in size from about 600 square feet to 1,000 square feet, feature an urban design, including a decorative metal ceiling, a walk-in shower, a membership to the health club, and all units except the studios have a balcony.
Lots of folks want to give urban living a try, said Matt Gatewood, who is waiting to move into a sixth-floor apartment in the building. Gatewood already has been living in downtown Lawrence for seven years in the nearby building at 10th and New Hampshire streets.
"It is a pretty unique experience living in downtown," Gatewood said. "You don't have to get in a car if you want to go to a restaurant or to a movie or to experience some nightlife. Plus, in downtown, you just feel like you are in the middle of everything."
Gatewood, who is a project manager for a software company, said he thinks downtown Lawrence has more potential for living units than even downtown Kansas City. He said Lawrence's downtown is more compact and thus puts people closer to the activity centers than is possible in downtown K.C.
"I'm not sure there is a real cap for how many people could end up living in downtown Lawrence," Gatewood said. "There is a lot going on down here."
A clear view
Compton stops in the middle of one of the building's stairways and calls the fellow he sees walking out of the building down below. He wants to make sure he got a few details right about a counter that is on order for the lobby of the health club. Earlier in the day, Compton was using his hands to draw pictures in the air of the counter's layout and where shelves could go.
If your vision of Compton is of some well-heeled developer who sits in an office writing checks, that's not the way it has worked on this project. Compton can tell you the different colors that each floor's hallways will be painted, and he can spend five minutes or more talking about the details of the key card security system that will be installed in the building's elevator.
"I spend more time on this project than I do any of my others," Compton said. "I'm down here three or four times a week, and sometimes three or four times a day."
With a $10 million price tag, the stakes for the project are high. But Compton gives the impression that he thinks the stakes for downtown are high, too.
"This is really our opportunity to create a mass of people living and shopping in downtown Lawrence," Compton said as he motioned to the entire Ninth and New Hampshire intersection.
A group led by Compton last month filed plans for a six-story hotel and apartment building to be built on the vacant lot at the southeast corner of the intersection. The project would include an 81-room TownePlace by Marriott on the top three floors of the building, 36 apartments on the second and third floors of the building, and a restaurant, hotel lobby and retail space on the ground floor. The project would include two levels of underground parking as well.
But Compton last week confirmed what several have speculated: that he someday would like to do a large project on the northeast corner of the intersection. Compton said he can envision a combination of residential and retail development on the site, which now houses the offices for Black Hills Energy and others. Compton doesn't known when, or if, he'll ever be able to put together a deal for that corner, which he does not yet fully own. But the wheels are spinning.
The hotel project, however, is doing more than spinning. The city's Historic Resources Commission is expected to begin debating the project at a meeting later this month. Discussion likely will include concerns from east Lawrence residents who wonder about the impacts the large building will have on the adjacent neighborhood.
Compton said he is confident that his development team will successfully address their concerns, and he indicated he would work hard to see the project through.
"I tell you, that project over there should happen," Compton said, pointing to the hotel site. "It needs to happen for downtown."
In the meantime, you get the feeling that Compton feels awfully good about what already has happened at this intersection that very well may become known one day as Compton's Corner.
"You know, up there on the top floor, the views aren't blocked by anything," he said. "And they never will be."
Copyright 2018 The Lawrence Journal-World. All rights reserved. This material may not be published, broadcast, rewritten or redistributed. We strive to uphold our values for every story published.