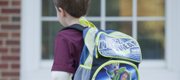 Subscribe to the email edition of First Bell and we'll deliver you the latest local education news and notes every weekday at noon.
Second-graders at Quail Run School are reading books to learn — and to raise money to buy a goat.
Students in the school's three second-grade classrooms are collecting pledges from family, friends and others based on the number of minutes read by the students during the next six weeks.
Then, using the money students collect, the classes plan to buy a goat for a family in Africa, through a "Read to Feed" program offered by Heifer International.
Price for a goat: $120.
"Our students are really moved and excited that we can change the life of a family clear across the world simply by reading," said Paula Barr, one of the teachers.
Classes taught by Barr, Shawn Fowler and Peggy Salyer are busy using the program as part of a larger effort to meet several state standards for social studies. Scheduled events:
• Read "Beatrice's Goat" — a true story of a girl in Uganda whose family received a goat from Heifer — by Page McBrier.
• Compare Lawrence to communities around the world, with a focus on Africa.
• Learn about setting and meeting goals, and compare the classes' goals to Beatrice's goal.
• Welcome both a guest speaker to discuss goat care and goat products, and two actual goats — Barney and Woody — to second-grade classes later this month.
The fundraising efforts started this week and will continue through Nov. 28. If the classes generate more than $120, they would consider buying other animals.
Among animals available for purchase, to help families become self-reliant: a sheep, $120; a llama, $150; a water buffalo, $250; and a heifer, $500.
•••
As the Lawrence school district faces continued funding cuts from the state, a contractor is willing to cut the amount of money it charges the district.
K12 Inc. provides the district with curriculum and online services for the Lawrence Virtual School, under a contract renewed annually since 2004.
Monday night, members of the Lawrence school board will consider approving an amended contract that would include a savings for the district of $150 per student for marketing and outreach. That would be down from the original cost of $300 per full-time student.
"K12 Inc. has been sensitive to the needs of our budget, with renegotiation occurring when financially necessary," said G. Keith Wilson, the virtual school's principal, in a memo to board members.
The contract amendment is up for consideration during the board's meeting, set for 7 p.m. Monday at district headquarters, 110 McDonald Drive.
•••
A federal official with local ties will be back in the district today, touring an elementary school and engaging in an informal discussion with district administrators and others regarding pending legislation on Capitol Hill.
Alexa Posny, an assistant secretary of education who leads the Office of Special Education and Rehabilitative Services, plans to visit Cordley School at 1 p.m.
According to the district, Posny plans to provide "an overview of the Education Department's priorities, including the need for passage of the American Jobs Act."
Citing federal information, the district says the measure would provide Kansas with "$191 million for modernization efforts to rebuild crumbling buildings and classes, which could help the state begin work on long overdue upgrades to schools and classrooms, supporting an estimated 2,500 jobs, plus "$278 million — enough to prevent an estimated 4,300 teacher layoffs for one school year."
Posny is a former Lawrence resident and former state education commissioner in Kansas. You can learn more about her appointment in a story written back in 2009.
Copyright 2018 The Lawrence Journal-World. All rights reserved. This material may not be published, broadcast, rewritten or redistributed. We strive to uphold our values for every story published.